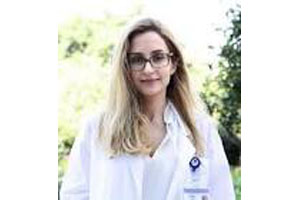 By MYRON LOVE Dr. Marian Khatib is a testament to the inclusive nature of Israeli society – and outs the lie to accusations of no-nothing Israel-haters.
As reported in the October 31 edition of The Jerusalem Post, the 40-year-old mother of two, raised in a small Arab village outside Acre, has just been appointed the director of the Breast Surgery Center at Tel Aviv Sourasky Medical Center.
Jerusalem Post writer Maayan Joffe-Hoffman reports that Khatib is Israel's first Arab breast surgeon – and the only oncoplastic breast surgeon in Israel's public health system who performs both the resection and the reconstruction for breast cancer patients.
"I am proud that the public medical system in general and this hospital, in particular, do not have a glass ceiling," Joffe-Hoffman quotes the doctor as saying. "I ask every girl, no matter where she grew up and what her background is, to see me and to believe that anything is possible and that the sky's the limit."
According to Joffe-Hoffman, Khatib was born in the United States to Arab-Israeli parents, who returned to Israel when she was just a baby. At a young age, her parents had her assessed, she was diagnosed as gifted and they decided to invest in her education. They moved to Acre and sent her to school in Haifa, where she could receive enrichment classes.
After she graduated, she began studying medicine at The Hebrew University in Jerusalem.
"I was fascinated by general surgery and decided that a surgeon is what I wanted to be," she said. "When I started in surgery, there were a few women who worked as surgeons and even fewer who specialized in a disease that is so feminine and intimate. Over the years I realized that I wanted to be there – a woman for the women," she continued.
Joffe-Hoffman quotes Khatib as saying that "being Arab has never been a barrier to building these connections". In fact, before her appointment became public, she said that she "rarely considered her religion as part of her profession. Before then, she said she is not even sure that her patients knew her personal history".
"Happily, I was educated so that if you work hard – you will go far," said Khatib, who lives with her family in northern Tel Aviv. She noted that her eight-year-old son is studying at the Tabeetha School Jaffa, where he studies in English and learns Arabic and Hebrew, too. Her daughter attends a Jewish preschool.
She added that she chose to send her children to Tel Aviv area schools because she wants them "to be part of our general community, not marginalized into a certain stream. I want them to live without having to define themselves."
About 10 months ago, reports Joffe-Hoffman, Khatib started working part time at Holy Family Hospital in Nazareth, reconnecting with an Arab community. It was then that she realized how much pride they felt in her accomplishments.
"I got very positive feedback" from the Arab community "after the appointment," Khatib said.
And Khatib is not an outlier in her chosen field of work. As reported in the October 3rd edition of Haaretz by writer Ronny Linder, "according to the Health Ministry's chief economist's office, 67 percent of license recipients in all the health care professions in 2017-2018 were from the Arab population. In addition, 63 percent of all the medical students, 84 percent of the nursing students and 82 percent of the pharmacology students were Arabs".
And the numbers are growing. The 2020 data show that the Arabs and Druze in Israel, who make up about 20 percent of the country's population, constitute almost half (46 percent) of recipients of medical licenses; half of the new nurses, male and female (50 percent, as compared with just 9 percent in 2000); and more than half the dentists (53 percent) and pharmacists (57 percent).
In addition to the fact that Arabs comprise a vastly larger proportion of the medical field than their share in the population, Linder reports, "this meteoric surge within just two decades has transformed the face of medicine in Israel. Besides the leap of more than fivefold in the number of Arab nurses since the start of the century, there has been a fourfold increase in the number of Arab physicians, the number of Arab dentists has more than doubled and the overall proportion of Arab pharmacists has almost tripled, from 21 percent in 2000 to 57 percent in 2020."
So why do so many Arab-Israelis gravitate to the healthcare field? A separate article, quotes one doctor's explanation. Marian Tehawkho is director of the Center for Economic Policy of the Israeli Arab Society, which is part of the Aaron Institute at Reichman University (formerly the Interdisciplinary Center Herzliya).
She notes that in high-tech, for example, it's not enough to have an engineering degree, you need connections such as having served in the army's Intelligence Unit 8200. While most Jewish Israelis (excluding the Haredi community) are obligated to serve in the IDF, Arab Israelis are not – although they can voluntarily enlist as many Druze and Bedouin and a growing number of Christian Arabs do.
She adds that "in many instances, Arab candidates have no chance of succeeding in an interview because of their low self-confidence, inferior articulation skills or imperfect Hebrew. These are matters that go beyond a formal degree. But in medicine, the degree and the certificate are sufficient. And there is a chronic shortage of personnel in these professions".
And, in the view of Dr. Guy Shalev, "the outstanding Israeli-Arab students are set on a track into the health care industry because they say that there, they will be appreciated as they are, and they will be able to advance if they do good work."
He adds that that attitude is characteristic among minorities. "Jews, too," he points out, "flocked to medical schools in the United States and Europe".
Add to that the high status of medicine in Arab society, where every parent's dream is for their child to become a physician.