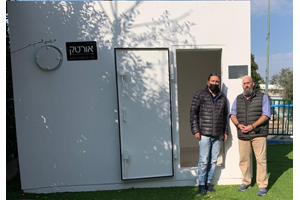 By BERNIE BELLAN As noted in our article about the Covenant Cup golf tournament elsewhere on this website, money raised by a group in southern Manitoba was used to build a bomb shelter in a community in Israel. The name of the community is Maalot-Tarshiha, situated in the northern Galil, only 15 kilometres from the Lebanese border.
As Rabbi Shmuel Bowman, the direcotr of Operation Lifeshield, explained to me via email, projects are chosen in consultation with community leaders. The purpose of Operation Lifeshields or Project Life Initiatives, as it is known in Canada, is to provide shelters in areas succeptible to missile attacks, either from Gaza or Lebanon.
Following is information taken from the Operation Lifeshields website:
1. Why does Israel need bomb shelters? 
The modern state of Israel has been under constant threat of destruction since the day it was established.
Terrorist groups in Lebanon and Gaza are determined to destroy the Jewish State. They have each sent thousands of missiles into Israeli civilian areas, and constantly threaten to send more.
With neighbors like these on both fronts, war is always on the horizon. Even in times of relative "quiet," rockets can come in at any time, at a moment's notice.
Israelis living near the border only have seconds to scramble to shelter when rocket sirens go off. Unfortunately, the Iron Dome is not 100% effective. At this time, it is unable to intercept rockets that are headed towards communities that are very close to the border. In situations like these, (which have been particularly common near the Gaza border over the past few years), the presence of bomb shelters is the difference between life and death.
Since the Gaza Conflict (Operation Protective Edge) in the summer of 2014, schools, institutions and communities have been desperately trying to provide protection solutions for their constituents, in preparation and anticipation for the next war. Operation Lifeshield has met with mayors, social workers, security chiefs and educators in targeted areas in order to develop strategic relationship and to maximize the help we can provide, and also be confident that the shelters we deploy will be well-maintained and serve the most-in-need.
Operation Lifeshield's goal is simple: to save lives in Israel from enemy rocket attacks.
2. How many rockets and mortar shells has Gaza fired into Israel? 
Terrorists in Gaza have fired a total of over 22,000 rockets and mortar shells at Israeli civilian areas since 2001. More than 6,500 of those were fired at Israel since 2014.
3. How long does it take to build a shelter, and who manufactures it? 
We are proud to have a very fast turnaround time. The time between the order and the day of delivery could be between 2 weeks and 2 months, depending on the manufacturer's stock, national holidays, and the weather (it takes longer for newly cast shelters to dry when it rains).
The local Israeli manufacturers we usually work with are Wolfman Industries, IMI Systems, and Ortec. All of our shelters are above-ground, fully-accessible structures, and meet the strictest standards of the IDF Home Front Command. 
4. Where does OL get its funding? 
Most of our funding comes from Christian and Jewish community groups, organizations, and individuals worldwide.
 5. Does the Israeli government really not provide any shelters for these at-risk areas?  
The government only provides fortification for structures within 7 kilometers of the Gaza border, provided that they have already been there for several years, before around 2012. New buildings and anything more than 7 kilometers from Gaza do not receive a safe room from the government.
However, the government obligates all schools and public institutions in Southern and Northern Israel to have shelters, and threatens to shut down those who don't comply.