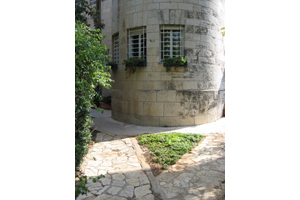 By SIMONE COHEN SCOTT Jan. 16, 2022 Jerusalem These past months in Jerusalem were different than other years when I've had a foot in both Israel and Canada. For one thing, this time I used a travel agency instead of my usual CheapOair website. A good thing too, as I was a document short checking in, and was told I could only get as far as Toronto. A quick call to my travel wizard fixed that.
At first, none of the answers as to where I'd be staying, triggered her computer…until she remembered that a client going to Turkey had been asked which hotel near the airport he'd stay at upon arrival. Naming a similar hotel for me did the trick. Upon landing in Tel Aviv, hotel or not, I boarded a Sherut to my apartment, no questions asked.
Another thing different, in early 2021, with Covid first setting in, I was attending Ulpan daily. My classes were a stone's throw from the city centre with its hustle and bustle of street musicians, buskers, open kiosks, bars, art galleries, and so on. This year my bus didn't go near the Ulpan. Why not? Construction! Something is happening on King David Street. I hope its elegance won't be compromised.
I'm pretty much done with Ulpan anyway. I have a mental block about languages, beginning with French and German. I'll never speak Hebrew coherently, but now I sure have fun reading Torah. For me that's the important thing, as my Jerusalem apartment is situated among English speaking olim. Mostly from Commonwealth countries, they bring back memories of elementary school, when England seemed much nearer than the States……..before television brought America into our living rooms. We learned to sing 'Land of Hope and Glory', and admired (and respected) the royal children.
Actually, I'm fascinated by the British way of doing Jewish. I'm invited quite often by neighbours for Shabbat lunch. (Kiddish after Shul is not a given, like here.) We begin at noon, formerly a table full of guests but now just a few of us, with singing, Kaddish, motzi, appetizers, soup, schnapps, entrees, salad,…..more singing, Dvar Torah with everyone participating, then liqueur or scotch, dessert, tea, and finally Birchat HaMazon. We part and go home. By this time it's 'way after three and during these short days one can barely squeeze in the Shabbat Shloff.
There's construction in my neighbourhood too, including a renovation upstairs. My charming building is becoming gentrified….uh, oh! Sunday through Thursday, at 7 am sharp, drilling begins on the main street at the corner. This is recent. It seems the neighbourhood is going upscale. Two or three storey mega mansions are adding three or more floors; charming cottages are being replaced by seven floor or so apartment buildings. Construction seems to be one industry that is avoiding shut-downs and providing jobs. It makes sense to polish up my neighbourhood; it's one of the most convenient residential areas in the city. Back when I was too shy or intimidated to use the transit system, I would walk everywhere: the Old City, the new city (just called 'the city'), Zion Square, City Hall, Emek Rephaim, Talpiot, German Colony, Greek Colony, Rehavia, Talbiya, Mea Shearim, Abu Tor, Bus Depot, Jerusalem Theatre, Israel Museum, Cinemateque, Ramat Gan Campus, Knesset, San Simeon Monastery.
Let me tell you about the San Simeon Monastery. It played a key part in the War of Independence, as did the whole area where I live. My neighbourhood, in fact, is called Old Katamon, the word Katamon derived from Greek and meaning 'by the monastery'. Originally built of stone and earth in the 7th century, it is believed to be the site of the tomb of Simeon, who, according to the New Testament Gospel of Luke, was the first to recognize the infant Jesus. Through the centuries various structures continued to be built or maintained on the site, ostensibly by the Greek Orthodox Church, which ultimately owned the entire area.
Fast forward to 1914 and the Church began to sell off parcels of land to wealthy Palestinian Christians. A plot could be purchased for 5 Qirsh down and 5 Qirsh per week to a max of 5000 Qirsh, states a newspaper ad of that year. And so, during the British Mandate period, gorgeous mansions were being built, and countries were locating their consulates in Katamon. (A few still remain, Italy's for example.) At that time, only a couple of the streets in the area had names. Brass plates on homes and buildings stated the name of the owner or institution, and this method sufficed as an address.
After the War of Independence, streets were named after people or events that figured in Israel's recent past or history. To illustrate, the busy main drag at the corner where I live, now complete with strip mall, etc., was named Palmach, an acronym in Hebrew for 'strike force'. The Palmach was an elite fighting force, (read tactical combat), developed in 1941, to handle two potential threats; firstly, to counter the possible occupation of Palestine by the Axis in case the British lost in North Africa, and secondly, to defend Jewish communities if the British army were to retreat from Palestine leaving its Jews subject to attack from Arab forces. Which is what happened.
The Katamon area was not within the Partition offering to the Jews by the United Nations, but the monastery, being on high ground, was being used by Arab military forces to observe and attack Jewish convoys and communities. The Harel Brigade, a division of the Palmach, was ordered to begin an assault, gradually moving upwards from where the Museum of Islamic Art is now located. This is considered one of the key battles of the War of Independence. The story goes that the Arabs sought help from surrounding villagers and from Jordanian troops, to no avail, and so eventually abandoned the monastery, and thus the neighbourhood, to the nascent state.
For one reason or another, as one would expect with war raging all around, the mansions were abandoned. (Back in the '60s my husband and I visited his friend, a Time Magazine representative, who lived on the top floor of one of those mansions. He and his family were there by virtue of him paying 'key money' to the owner, a general practice among some at the time.) The monastery, by the way, is now a home for disabled seniors, staffed by volunteers who live in and are paid a stipend. The building is surrounded by a beautiful public park, great for kids, dogs, basketball and ping pong.
My place in Old Katamon is in the recently developed basement of one of the lovely mansions. The three floors of this family home were divided – back in the early 1950s, into six apartments, a couple of which have been or are in the process of being renovated. At the opposite end of my street, about a twenty minute walk away, is the family home of former Prime Minister Netanyahu, who, I understand is using it once again.