By SIMONE COHEN SCOTT Last fall a Canadian city tour was arranged for two women from the Jerusalem Business Development Centre (or MATI, as its acronym is known in Hebrew), an Israeli NGO that promotes development of small businesses among under-served communities in Jerusalem. This NGO is a project of the Jerusalem Foundation: The tour, happening in May, is being sponsored by the Asper Foundation, in partnership with the Jewish Federation of Winnipeg. I had the good fortune, in Jerusalem last month, to meet and visit with these two women, Michal Shaul-Valej, Deputy CEO, and Riham Abu Snineh, East Jerusalem Manager. It was enlightening to hear about the sensitive and important work these women are doing, and I'm looking forward to seeing them again and learning more when they visit Winnipeg on May 7th, Sunday morning, 10 a.m., at the Asper Jewish Community Campus in the Multi Purpose Room.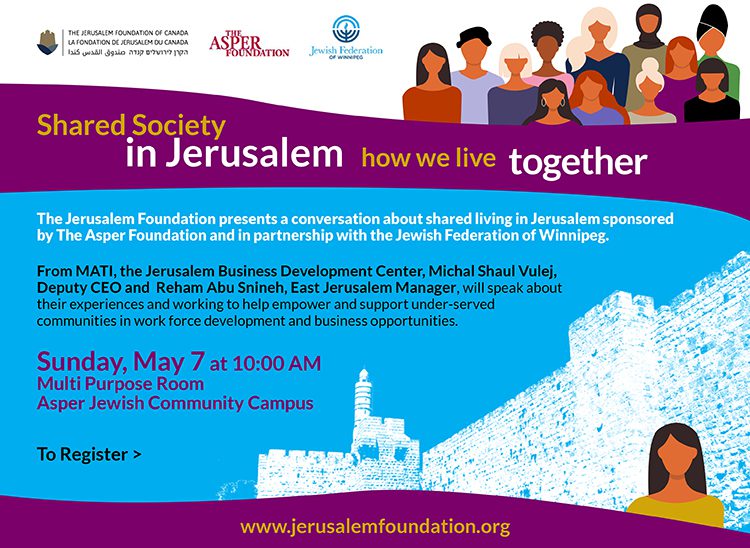 The Jerusalem Business Development Centre began in 1991 with the support of the Jerusalem Foundation, as a way to provide an economic solution to unemployment. Jerusalem, Israel's largest city, is also the poorest. To alleviate this extreme situation among immigrants and ultra frum Jews, 80% of whom live below the poverty line, and Arabs, 40% of whom also live below the poverty line, it was decided the best solution would be to help these people develop small businesses. So the NGO was formed to provide what would be needed to do this: MATI helps with the forming of the idea for a service or a product: provides the basics of how to begin; the education and training to see it though; a business plan; adaptation of business models; basic budget assessments; arranging loan assumption; and any further guidance; under-girded always by English and Hebrew instruction. Poverty problem solved, right? Nope! What MATI offers is the easy part. It's what the clients bring that provides the challenge.
There is a depth of work behind the work that requires special sensitivity on the part of the staff and volunteers. An understanding of the various cultures is paramount, and resistance needs to be met with patience and empathy. Michal has been with MATI for 21 years, so she was in at the beginning. We can expect that her professional degrees have been massively enhanced by the challenges brought to the project. It has been said that Jerusalem and its myriad of problems is a microcosm of the planet. Trying to blend peoples' cultures and histories developed over centuries, while occupying a small geographic space, is not going to be like "Let's go for a walk in the park." Actually, even that analogy wouldn't be easy or maybe not even possible. People tend to stay in the groups where they feel safe. Think of the Haredi or Muslim or Ethiopian communities, all resisting normalization. Each culture has a hesitancy to trust, and it can take a long time for a person to realize the 'other' does not have a hidden agenda besides just helping. It would have taken Michal or Riham (who has been with MATI 11 years), patience, empathy, and perseverence, to win that trust, even when a better quality of life is the goal. Every member of the 23 person staff would have to be ultra sensitive, committed, and strong, as modelled by these managers, to do this work. In effect, they would all be mentoring the clients and each other.
Immigrant women are perhaps the most able to see and respond to the professionalism of this organization. With the help of MATI many of them have set up child care enterprises, enabling other women to pursue other occupations. This is the case in all the communities. The solution to the poverty problem could very well come from entrepreneuring women. The next step, reaching across boundaries and interacting with each other, would chip away at the societal alienation going on now. The composition of the staff reflects this propensity of women clients. At present of the 8 staff in East Jerusalem and 15 in the West, only 3 are men. I didn't ask about the ratio of single mothers. This could be a question for the May 7th meeting.
A tangible difficulty among immigrants is that there is no common language, so explaining aspects of the project to the participants is difficult. Language is an even more severe barrier with Arab groups. East Jerusalem citizens, under the Jordanian education system, are not conversant in Hebrew at all, and in most cases not English either. It is realized that bringing the eastern section of the city into the economic pattern of the west is part of the goal, and for this, to speak English is paramount. Fortunately, English classes are attracting students from various streams. In fact English classes are currently the strongest incentive for members of the groups to mix a little. One point here: As I spoke to these women I realized they would not let themselves get bogged down with regret at what perhaps SHOULD have been done in the past. No, they won't dwell on that; instead, they look forward and up, putting their shoulder to the wheel to overcome past misjudgments. NOW. MATI has open connections with City Hall which have been very helpful in many ways,
At a point in my visit with Michal and Riham we were joined by Zvia Shelly, the CEO of MATI. She has been with the group two and a half years, but my goodness! What a powerhouse of skills she brings to the mix. She has spent a couple of decades with various organizations where she has gained massive experience with management agencies, local authorities, large scale-budgets, stakeholders, volunteers and staff recruiting, strategic planning, goal setting, immigrant absorption, education and culture, and even agriculture which is hoped will contribute to bridging the gap. This is a formidable trio of women. Perhaps they will be the ones who break-up the log jam that forms that troublesome Jerusalem microcosm.
When the beloved Mayor Teddy Kollek (z"l) began the Jerusalem Foundation he intended opportunities to be available for all society everywhere to help in making Jerusalem truly "….the joy of the whole earth…". Having just experienced the retelling of our Exodus from Egypt, we long for our Holy City: "Next year in Jerusalem". Attend on May 7th and hear more from these woman about what's going on there. You'll come away enriched.