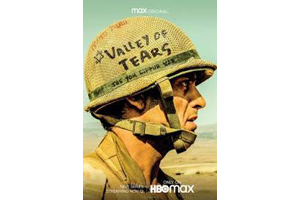 The biggest budget Israeli TV series of all time, Valley of Tears comes to Hollywood Suite following the smashing success of its debut in its home country and on HBO Max in the US. Hollywood Suite is proud to be the exclusive Canadian home of the all-new HBO Max Original 10-part war drama, Valley of Tears, launching Saturday, December 19 at 9pm ET. VIEW THE TRAILER HERE
The series is inspired by the true events of the 1973 Yom Kippur War in Israel. Leading up to the ultimate battle, the series follows young combatants thrust into a war that was later revealed could have been avoided by leaders they blindly trusted.
Shot at the actual location of the war, these intimate portraitures highlight the tension, anxieties and sentiments of the country's people through a magnified lens, with the unprecedented outcome of an unlikely victory.
"Valley of Tears is not only an important historical war drama but also an exciting programming event for Hollywood Suite and our viewers," said David Kines, President, Hollywood Suite. "We could not be happier to welcome this high-calibre, original series, which broke viewership records in Israel, as the first of many exclusive programming acquisitions for the Canadian market."
 
The series stars Lior Ashkenazi (Foxtrot), Aviv Alush (The Shack), Lee Biran, Shahar Taboch, Joy Rieger, Ofer Hayoun (HBO's Euphoria), Imri Biton (Just for Today) and Maor Schwitzer (Shtisel). Valley Of Tears was created and co-written by Israeli-American TV and film writer Ron Leshem (HBO's Euphoria), Amit Cohen (False Flag), Daniel Amsel and Yaron Zilberman (A Late Quartet); the latter also directed the entire series.
Valley of Tears is an HBO Max Original co-produced with WestEnd Films, United King and Endemol Israel. It was broadcast first on the Israeli broadcaster KAN and is currently streaming on HBO Max in the US.
Episodes 1 and 2 of Valley of Tears will premiere back-to-back Saturday, December 19, with a new episode airing each following Saturday. Each episode will be available On Demand immediately following their air date. The series will be broadcast in the original Hebrew with English subtitles. Subtitled and English-dubbed versions will be available On Demand.
 
Episodes 1 & 2 SYNOPSIS: 

EPISODE 1 – Pride Before A Fall
The day the Middle East shook. At a top-secret Israeli military intelligence facility on the top of Mount Hermon, facing the Syrian border, a young soldier is convinced a war is about to break out, but no one will listen to him. In Jerusalem, a Black Panthers activist, a social justice warrior, is arrested by the police moments before the holiday of Yom Kippur sets in, while his friends head back to their armored reserves unit and confront their commander. As the air raid sirens blare, a bohemian television star realizes his son, a cadet in basic training, has been sent to the front lines. A surprise attack brings a swift end to years of arrogance, euphoria, and rejections of possible peace negotiations.
 
EPISODE 2 – The Heavens Are Watching
A Syrian commando force tries to break into the Hermon bunker facility. The intelligence soldiers serving on the mountain are not trained for combat; they're terrified of becoming POWs, as they know the country's most sensitive secrets. The commander of the small security unit in charge of their safety fights against all odds. Not too far away, his lover, a young officer, refuses to comply with the order that all female soldiers must evacuate the front lines. In the Golan Heights, the tank crew is eager for battle, but the euphoria will soon be replaced by a shock to the system they will struggle to recover from. Meni, the bohemian television star, heads out to the front lines in search of his son. 
 
ABOUT HOLLYWOOD SUITE

Hollywood Suite owns and operates four exclusive HD channels featuring the iconic movies that defined the 70s, 80s, 90s and 2000s, plus essential Hollywood classics from the Golden Age, always uncut and commercial-free. With hundreds of movies every month on four HD channels and Hollywood Suite On Demand, Hollywood Suite provides an unparalleled value to consumers.
 
Hollywood Suite is available to over 10 million households across Canada, exclusively through Canadian television service providers and Amazon Prime video channels. Visit hollywoodsuite.ca for more information.