How former Gray Academy instructor Avi Posen came to take a central role in offering online education for Jewish schools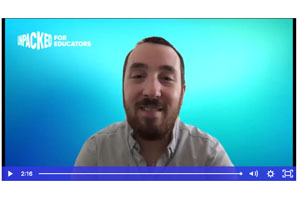 By BERNIE BELLAN
Elsewhere on this website we have  a story about an interesting new partner-school program developed by an organization called OpenDor Media. The name of the program is "Unpacked for Educators". To review what was in that story – in case you didn't see it, the aim of the program "is to strengthen Israel education in Jewish schools around the world.
"This international community will be at the forefront of digital education, working together to create a shared language for how to teach about Israel. If you're not familiar, Unpacked for Educators, a division of OpenDor Media, is a leader in digital education and innovation for Israel and Jewish content. The educators in the program will receive complete access to OpenDor Media's powerful and unique video content to professional development, networking and expert support."
At the time we ran the story, however, we had no idea that one of the key individuals behind Unpacked for Educators is none other than Avi Posen, formerly an educator at Gray Academy who is now living in Israel, which is where he and his wife, Illana (Minuk), made aliyah last year.
The day after the story appeared I received a phone call from Avi, who explained his connection to Unpacked for Educators. We had run a story by Myron Love about Avi and Illana last November, in which Myron wrote that Avi was about to begin a new position as "assistant director of Education for Jerusalem U, a Jewish/Israel education digital media company based out of the old city of Jerusalem."
During our phone call Avi asked me whether I'd be interested in finding out more about Unpacked for Educators and his role in that organization. That led to our having a lengthy Zoom call on Wednesday, August 12, in which Avi gave me a much more complete overview of what Unpacked for Educators is all about.
The Unpacked for Educators website gives this description of Avi's background: Avi Posen is the Assistant Director of Education at OpenDor Media. His focus is on content creation and exposing Jewish educators around the world to our Unpacked for Educators materials. Avi has worked as a Judaic Studies teacher, Hillel Director and Jewish camp director. He holds a Masters in Jewish Education from Yeshiva University in New York.
We began our conversation by clarifying just who it is for whom Avi is working. As Myron noted in his story, Avi began working for something called "Jerusalem U". In January, however, "we rebranded to 'Open Dor Media,'" Avi explained.
"Within Open Dor Media we have different brands," he continued. "We have our 'Unpacked' Youtube page, we have 'Imagination Productions' films, and we have 'Unpacked for Educators', and I'm the assistant director of education working with Unpacked for Educators.
"What we essentially do," Avi explained, "is we take all the videos and films about the Jewish people that we produce on a weekly basis, and we create educational resources for them, and we get them out to the Jewish world.
"On a monthly basis we have thousands of Jewish educators from all over the world that utilize our resources, and we send out a weekly email breaking down Jewish current events, why it matters – from different perspectives, and how to teach about it.
"We have 2300 Jewish educators subscribing to that (service). Rabbi (Jonathan) Sacks was our 2,000th subscriber about a month ago.
"All the work that we do is free. We're not selling it."
Avi went on to say that it's very easy to persuade educators to subscribe to what Unpacked for Educators offers because "not only is it free, it's a high quality, nuanced resource how to teach about Israel…in a way that's asking really tough and interesting questions."
Avi referred to my own article in the August 5 issue, noting that I had written that 50 different schools were now subscribing to the Unpacked for Educators program in seven different countries. He said that one of the goals of the program is "to get feedback from both teachers and students about our content, how they feel about it, how it impacts them – so we give them surveys twice a year.
"We provide them with monthly webinars, we bring in experts in the field, we create programs for them so that we can have a teacher from New York, a teacher from Winnipeg, and a teacher from somewhere in Israel. It's very cool – we have all these educators from all around the world – and they don't have to reinvent the wheel. They don't have to debate with their colleagues or their students how to present controversial subject matter."
I asked Avi how exactly the material is presented on the Unpacked for Educators website – thinking that one would need to have permission to access the materials about which he was speaking. But, it turns out, anyone can look at anything on the Unpacked for Educators website. ().
Avi invited me to browse through some of the materials on the site, which I did following our conversation. He mentioned that the materials include a five-part series about "settlements" and he invited me to watch any of the segments following our conversation.
I decided to watch a segment titled "Palestinians of the West Bank | Settlements Part 4" (available at https://unpacked.education/video/palestinians-of-the-west-bank-settlements-part-4/
Underneath the title of the video was the following caption:
"Episode IV of this miniseries focuses on the Palestinian perspective on settlements. It's based on articles and first-hand accounts that paint a picture of what life is like for Palestinians in Gaza and the West Bank, exploring both the history of the conflict and modern-day issues. The video expresses one of our core goals, which is to cultivate a passion for Zionism and Israel without sacrificing empathy for the other. Use this video and the prompts below to help your students develop empathy for people on every side of this challenging conflict."
(I watched the 12-minute video and was very impressed by how balanced the material presented in the video was. While I wouldn't say it was sympathetic to the Palestinian perspective, it certainly didn't shy away from delving into the underlying causes of Palestinian resistance toward Israel. The video even went into some detail about different interpretations of the term "occupation" as it applies to Israeli control of the West Bank. This is hardly the kind of propagandistic approach that one might expect from an organization whose ostensible purpose is to "develop Israel education curricula" – and I say kudos to "Unpacked for Educators" for daring to provide a balanced approach when it comes to providing educational materials about Israel.)
In addition to videos the program provides suggestions for discussion. As Avi explained, the program has "been developed by educators for educators". It's meant to save educators the trouble of having to prepare lessons on their own, which can be time consuming and quite difficult to do when it comes to teaching about Israel in a way that can grab modern students' attention.
Avi noted that coming up was going to be the first "webinar for over 50 educators from schools all over the world. As far as we know it's going to be the first time that an international cohort of Jewish schools and educational institutions are getting together in one place – collaborating and sharing resources, going through professional development together, creating this network and shrinking the world of Jewish education."
I asked Avi whether the program "is aimed at high school students specifically?"
He answered that "it's a good fit for middle school, high school…there's Hillels that use it, there are adults that use it."
He also explained that the website is divided into categories indicating which materials are designed to be used by specific age groups.
I asked how Unpacked for Educators is funded?
Avi said: "We're entirely funded by donors. There are Jewish federations, different foundations, private donors…from all over the political spectrum." He added that anyone wanting to donate could go to opendormedia.org, which describes itself as a "a non-profit foundation that reaches out to unaffiliated and marginally active Jews, as well as to non-Jews who are part of the Jewish family through marriage to a Jew or through Jewish ancestry, aiming to increase their participation in Jewish learning and culture."
Speaking of someone who is married to a Jew, I mentioned the similarity between Kamala Harris, the newly selected Democrat Vice-Presidential candidate in the U.S., and Annamie Paul, who is vying to become leader of the Green Party in Canada. I told Ami that here we have two Black women, both lawyers, both married to Jews (and in Annamie Paul's case, also someone who has converted to Judaism).
Avi immediately responded to my referring to Kamala Harris and said that Unpacked for Educators has already created a video focusing on her and the notion that she is "pro Israel". He said that, rather than taking a position on Kamala Harris – and whether she is pro-Israel or not, the video provides footage of Harris speaking on the subject of Israel – without being an "op-ed" about her.
"What does 'pro-Israel' even mean?" Avi wondered. "Kamala Harris supports AIPAC, yet she was for the Iran deal. Do you interpret those positions as being pro-Israel? How do they fit within your categorizations of what it means to be pro-Israel?"
"The plan eventually is not just to cover Israel," but to expand to examine Judaism as a whole, Avi noted.
I told Avi that the reason I wanted to do a story about what he's doing with Unpacked for Educators is because so much of how schools are going to be functioning come September is still so uncertain.
Will students be continuing to rely on online educational tools to a much greater extent, for instance? If so, I said to Avi, what he and others with whom he works at Open Dor might find that what they are doing in terms of providing relevant and interesting educational material about Israel that can be accessed online will be in far more demand than what might otherwise have been the case.
"I'm speaking to teachers all the time who are all over the place," Avi agreed. "Yet, compared to four months ago when everyone was scrambling – all over the world" to come up with new ways of teaching, "definitely there are now plans in place."
"I've been speaking with educators in South Africa and Australia" – where school has been ongoing, "and it's complicated – where half the time students are in class in school and half the time they're learning online."
"When corona started our website blew up," he says. "Before corona there were still thousands of educators accessing the website and using the resources – and loving it, but once corona started, they realized not only would they use us when they wanted to – they needed us because having to switch all your teaching to online, especially when some of your teachers are not tech-savvy, makes your job a lot easier."
So, with a creative and open-minded team turning out a steady stream of content about Israel that Jewish educators around the world will be able to access, Unpacked for Educators couldn't have arrived at a more opportune time – especially when the entire process of education is evolving so rapidly. And Winnipeg's own Avi Posen is right at the forefront of what has become a hugely popular tool for educators in Jewish schools around the world.
The story of Mayer Barad (born Mayer Boroditsky) and how he came to be awarded not one, but two medals, by the Israel Defense Forces – although perhaps somewhat undeservedly!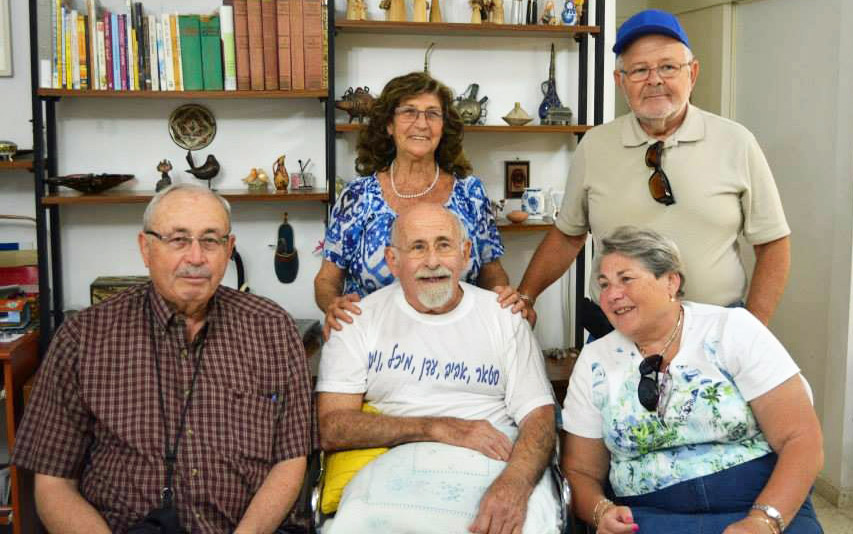 By BERNIE BELLAN
A few weeks ago I ran into Danny Waldman, about whom Myron Love did a terrific story in a January 2020 issue of this paper. (You can read Myron's profile of Danny and the exquisite mezuzah casings he produces on our website, jewishpostandnews.ca. Just search for "Danny Waldman.")
I didn't recognize Danny at first. (It's only been about 60 years since I had last seen him in person.)
We were at a mutual friend's cottage at Winnipeg Beach and, during the course of our conversing, somehow we got around to talking about Wynola and Bell Bottling. For those unfamiliar with the name "Wynola," at one time it was a very popular soft drink in these parts. Bell Bottling was owned by the Boroditsky family and, for years, the company was a major player in the soft drink market here.
As Danny put it, "when the Boroditsky kids were growing up, the only way they would drink milk is if they mixed it with Wynola."
One thing led to another – as conversations are wont to do, and Danny began to tell a terrific story about a member of the Boroditsky clan, born Mayer Boroditsky, with whom Danny became acquainted in 1970 when Danny went to Israel to volunteer on a kibbutz called Urim.
I later found out – from Rena Boroditsky, who was a niece of Mayer's, that Mayer's parents were Aaron and Sarah Boroditsky. Mayer was born in 1935, Rena related in an email. She also wrote that he moved to Israel in the early 1950s, when he was around 18. He settled on Kibbutz Urim, which is in the Negev Desert, not far from the Gaza Strip. (The kibbutz was started by Jews from Romania and Bulgaria, in 1945.)
When he moved to Israel though, Mayer changed his last name to Barad. (According to Rena though, it was spelled Bar-ad.)
Danny Waldman's sister Shira had volunteered on the same kibbutz, in 1967.
Here is the story that Danny told about Mayer and something that happened to him during the 1967 Six-Day War, when Mayer was serving on a tank and saw action in the Sinai Desert. (The story was related to Danny by Mayer.)
In Danny's words, "what happened is that in Israel, when you did your reserve duty they would often put you in an area of your civilian expertise. On the kibbutz Mayer was a heavy duty mechanic. And so, when he was called to 'miluim' (reserve duty,) he would do tank repairs very often.
"Because of his knowledge of heavy mechanics, he was placed in a tank – in the tank brigade – as a commander. Now, one of the things that happened is that his unit was one of the lead units to cross the Negev and then down into the Sinai. During June in Israel, the temperature was miserable and it was even hotter inside the tanks.
"This is in the days before air conditioning in the military, so the temperature in there could have very easily been 120 plus. Anyway, these guys are rolling along and you don't have a lot of roll down windows in a tank. Then, they stop at one point for refueling.
"Mayer is of Bell Bottling …uh, what's the word I'm looking for? Um, of the lineage of Bell Bottling. Yeah. So, under his seat in his tank, he has a bottle of Tempo Lavan, which is the equivalent of Seven Up – the Israeli Seven Up anyways.
"Anyways, Mayor takes it out from under his seat – and it's been sitting, in the high temperatures…along with the shaking up of the the tank. And, he's gotta take a drink.
"So he takes the bottle. And you know, the joke at that point was that the magazine of the Uzi was the perfect size as a bottle opener. Mm-hmm. So he takes it, he takes out his mag and he puts the bottle down on the tread – a steady place to open the bottle, and as soon as he hits the bottle against the tread, it's been shaken up so, so much that the cap flies off and hits him in the eye.
"There is some damage. So the medic bandages his eye and they medevac him back to Be'er Sheva. Anyways, the war is going relatively well for the Israelis and the next day, the prime minister is coming through.
"It was Levi Eshkol. He comes to the hospital and he's doing a press run. And he's got all the foreign press with him. So, his advance man says, you know, we would like to interview a soldier, but it would be really good if somebody there speaks English and they run through the whole, list of soldiers that have come in and they come up with who?
"Mayer Barad. Why? 'cause he comes from Winnipeg. Of course he speaks English. So, they come into his room and he is the perfect candidate for an interview. Here he is: the wounded soldier with a mile and a half of gauze around his head, and you know, the big eye patch. And Eshkol comes up to him and says – in English, 'Mayer, what happened to you?
"And Mayer, you know, he thinks quickly. He thinks, there's no way in hell I can tell him that I was hit in the eye by the top of a pop bottle, so he says, 'Excuse me, but I'd rather not speak of it. 'And the prime minister puts his hand down on his shoulder and says, 'I understand.'
"Eshkol walks out of his room. He's got all the press in tow, and he says, 'There's an example of one of our finest fighting men who has gone through so much trauma and so much difficulty that he can't even bring himself to speak of it now.'
"The next day his picture was on the cover of the International Herald Tribune. He was in the Herald Tribune and all over the European papers. At that point he became famous, but everybody on the kibbutz knew what happened, and it was just this massive joke on Urim."
At this point Danny explains that, by 1973, although Mayer had been injured and was too old to be part of a tank crew any longer, he was still a great mechanic who knew everything about heavy equipment, so "they (the army) put him into a mechanic's position," whose job was to repair tanks.
"Anyways, to carry on his, his, um, oh, what's the word I'm looking for? His… oh, his notoriety. Yeah. When the Yom Kippur war came…that's the second part of the story.
"The Yom Kippur war comes up and he gets called to 'miluim,' to the reserves, and he goes off to the reserves and everything is fine. And I showed up as a volunteer… about halfway through the war. I show up on the kibbutz and everybody is very somber.
"I start asking, 'Are there any injuries yet? Does anybody know from where or anything else?' And just about everybody has been reported in, but we haven't heard from Mayer yet. And the next morning at breakfast, somebody said he's been injured and people are just sort of expecting the worst.
"Word is he's in hospital in Beer Sheva. Everybody is really upset and then the word comes back and it's really sort of strange… He's doing okay, but he's got broken ribs, so everybody is thinking: 'What happened?' You know, maybe his post got blown up or he was out repairing something and he got nailed again.
"Everybody's still very worried about him, how he's doing. Then, finally, the word comes back that Mayer was doing his duty as a tank repairman, and he had worked a very long day. (And just a sidebar for clarification: Because tanks are so heavy, you can't put them up on a hoist. What you do is you drive them over what they call a pit, and it's a big hole in the ground, and what it is, is you tow the tank over it, and then you go down into the pit below so you can do all your repairs from down below.)
"So, what happened? It turns out that Mayer had worked all day and he ended up going out doing something, but he came back. He forgot to lock up his tools. He comes back in the middle of the night and falls into the grease pit.
"He fell into the pit 'cause it was dark and broke all of his ribs."
"So, in both cases he was wounded in action and received a commendation for his injuries.
"So, he'sa war hero. Yeah. And the joke was he never showed anybody his medals. Nobody ever saw them. You know, everybody laughed about it, but this was his embarrassment all the way through life. Anyway, that was the story of Mayer Barad."
"In Israel, because we were both from Winnipeg, Mayer 'adopted' me on the kibbutz.
He was wonderful. He would give you the shirt off his back. He took care of everybody, literally… a wonderful, wonderful person.
Danny explains that the week before he went to Israel in 1970, a couple of planes had been hijacked by terrorists. That was when he met Mayer Barad the first time, Danny notes.
"Mayer 'adopted' me the day I came to the kibbutz. He came into my room and said, 'You're safe here. You'll write a letter home. Tell your mother you're safe and – if Winnipeg is here watching out for you, nothing will happen to you. Everything is good.' And he did an absolutely marvelous job of calming everybody's nerves… and he always had a good bottle of brandy there as well.
"He was just an absolutely wonderful soul."
As a post script to the story Danny Waldman told me, I tried to find a reference to Mayer Barad – or Mayer Boroditsky, anywhere on the internet. What I found was a story in our own paper about a 1997 reunion of the Boroditsky family in Winnipeg, with representatives from all over the world. One of the organizers of that reunion was Audrey Zimmerman, so I contacted her to as her whether she knew anything about Mayer Barad. Audrey said she didn't, but she suggested I contact Rena Boroditsky, who did provide me with some information about Mayer, including the photo that accompanies this article. Mayer Barad passed a few years ago and, just as Danny Waldman noted that he never displayed the medals he received for his "heroism," apparently, according to Rena, it was something of which other members of the Boroditsky family were also unaware – at least until now.
New BGU Canada regional president Maury Steindel recently returned from first visit to Israel's youngest university campus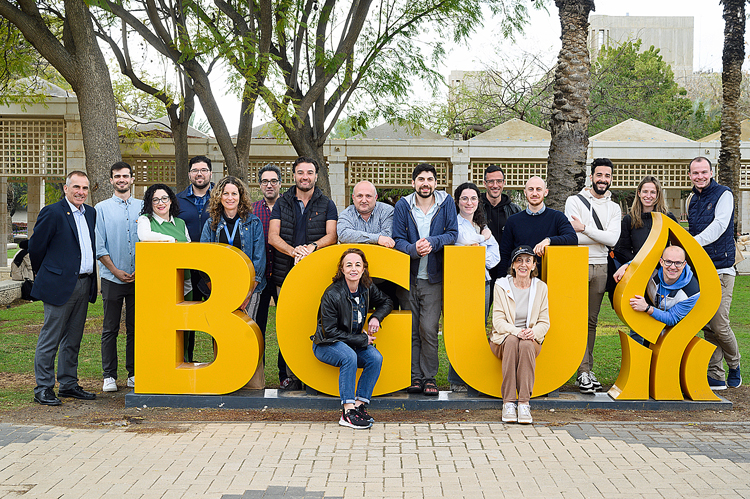 By MYRON LOVE
Maury Steindel, the newly-installed president of the Winnipeg chapter of Canadian Associates of Ben-Gurion University of the Negev (BGU Canada), had the opportunity to visit Israel's youngest university for the first time – and he was very impressed by what he saw.
In March, Steindel was one of 18 participants in BGU's annual Halutz Initiative. The two-week trip exposed the participants to two of the southern Israeli university's three campuses – one of which was in Be'ersheva – the unofficial capital of the Negev – and the other – a satellite campus – on Kibbutz Sde Boker, the home of the late David Ben-Gurion, one of Israel's founding fathers (and mothers) and the Jewish state's first prime minister. (It was also Ben-Gurion who envisioned the creation of a university in what was then largely a desert in an under-populated Negev.)
"It was really interesting learning first hand about the ground-breaking research being carried out at this vibrant and still relatively young institution," comments Steindel, who was last in Israel with his Grade 12 Gray Academy graduating class. (He had participated in March of the Living the year before.) "We were able to meet with several department heads and graduate students and learn about some of the unique projects that they are working on."
Steindel's own career is science-related. "I decided at a young age that I wanted to be an engineer," recalls the son of Gord and Kathy. "When I was eight years old, my parents enrolled me in a mini university camp program with an emphasis on engineering. All the activities spoke to my interests."
For the past 15 years, beginning as a summer student even before graduating in 2009 with a Masters degree in Civil Engineering, Steindel has been working as a project engineer for the same company, WSP, in Canada. His focus is on transportation infrastructure – in particular where pedestrian and cyclist safety is concerned.
Cycling is something that Steindel knows quite about. In his younger days he accompanied his father, Gord, on the annual Habitat for Humanity Cycle of Hope, a fundraising venture that challenges groups of cyclists to cover hundreds of miles to reach selected destinations and back to raise funds for building Habitat's affordable homes.
Also, in his younger days, Maury was active in Chai. He notes that Zack Ostrove, the dynamic executive director of the local BGU Canada office, recruited him to join the board five years ago.
"I felt that BGU is an institution worthy of my support and a way for me to give back the community," Steindel recalls.
The new president of the local chapter – as of the beginning of June – is proud to report that BGU Canada has sent more money to Israel than any other Israeli based organization in Canada for the past three years in a row. While the Covid lockdowns changed the way organizations such as BGU Canada were able to operate, Steindel points out that the organization was able to transition to online programs – one example being a literary series featuring Israeli authors and well known Jewish actors, such as Mayim Bialik and Shira Haas.
He also notes the ongoing research partnerships between BGU and the St. Boniface Hospital Research Centre. "Upcoming programs," he notes, "will include bringing in researchers from BGU to make presentations on their subject areas to the Winnipeg community. We have a few others in the works that will be announced at a later date."
Maury and his wife Rachel are the proud parents of Aaron, Josh and Leah – who all attend Gray Academy. And, it would appear that the children have successfully incorporated the family importance of giving back to the community.
Maury reports that for Aaron's bar mitzvah a couple of weeks ago at Congregation Etz Chayim, he requested that in lieu of flowers the centerpieces be made of food donations for Harvest Manitoba.
How an Arab resident of Jerusalem came to play a pivotal role in improving the lives of Arab women in Jerusalem – as the result of a project sponsored by the Jerusalem Foundation
By BERNIE BELLAN We've had a number of articles in this newspaper about the Jerusalem Foundation over the years, some of which I've written, while others have been written by Simone Cohen Scott, who has been spending winters in Jerusalem for many years now.
Frankly, writing about all the good work done by foundations can come across as a little dry. You can include all the figures you want explaining how much foundations have contributed to the betterment of a particular group or geographic area, but what can really liven up an article is a story about an individual or group of individuals whose lives were changed to a significant degree as a result of something a foundation has done.
So it was that when I attended a program on May 7 at the Asper Campus that was titled "Shared Society in Jerusalem: How we live together," what captured my interest more than anything was hearing one story in particular of a member of a panel representing the Jerusalem Foundation that had been touring various Canadian cities for one week prior to arriving in Winnipeg.
That person's name was Riham Abu Snineh. Riham is an Arab native of Jerusalem who has been managing a portion of a program sponsored by the Jerusalem Foundation known as MATI (which, as Simone Cohen Scott explained in an article in the April 12 issue of this paper) is an acronym in Hebrew that, when translated into English, means the Jerusalem Business Development Centre.
The program began in 1991, Simone noted, "with the support of the Jerusalem Foundation, as a way to provide an economic solution to unemployment."
According to information provided by the Jerusalem Foundation, MATI "offers training and small business loans – helping marginalized populations in Jerusalem break out of the cycle of poverty, particularly in east Jerusalem."
Now, as you're probably aware, despite Jerusalem having been reunited in 1967, the Arab portion of the population has been extremely reluctant to integrate with the Jewish population.
Riham Abu Snineh herself was typical of almost all Arab residents of Jerusalem – up until 12 years ago. As she explained to the audience on May 7, although she had graduated as a lawyer, she didn't speak either Hebrew or English. Like the vast majority of other Arab women in Jerusalem, Riham was unable to find work. (According to a table presented during the program, 74% of Arab women in Jerusalem age 25-64, are unemployed. Interestingly, the figure for Arab men in that age group is much better, with 69% employed. That figure is quite comparable to Jewish men, where 71% are employed. Neither figure is particularly impressive, however. The high rate of unemployment among Jewish men is largely attributable to the large number of ultraorthodox in the Jewish population who would rather spend their time studying than working – or serving in the army.)
Not being able to find work, Riham wondered about the possibility of going to work for MATI. But, as she noted on May 7 (speaking in Hebrew, which was translated by Jerusalem Foundation of Canada Executive Director Nomi Yeshua), she "wasn't sure about joining an Israeli organization. Who are these people?" Riham wondered.
But, after learning more about what MATI was all about, in 2012 Riham did accept a position with MATI. As she explained, "I convinced myself I would take a position with them because they shared my values."
And what are those values? As Simone wrote in her April 12 article, "MATI helps with the forming of the idea for a service or a product: provides the basics of how to begin; the education and training to see it though; a business plan; adaptation of business models; basic budget assessments; arranging loan assumption; and any further guidance; under-girded always by English and Hebrew instruction.."
Has MATI made a difference in the lives of women, both Jewish and Arab, in Jerusalem?
You better believe it has.
Here are some figures provided during the program on a leaflet that was distributed to audience members. (I know. I began this article by saying that reading about the work done by foundations can be a little dry, but it helps to flesh out the more abstract notion that Simone described with some actual figures.)
In 2022, through a particular program run by MATI for Jerusalem women known as "Turning Point", 450 women participated in that program. Out of that program 69 business plans were developed, 250 businesses were established and expanded, and 450 new jobs were created.
Riham is the East Jerusalem manager of MATI. In the past 12 years she has become fluent in Hebrew. As she told the May 7 audience, "I started to make a difference. I learned how much we don't' know about each other."
It was also under her guidance that MATI established a branch in east Jerusalem in the first place.
"Today we have 40 different projects," Riham observed, helping individuals with such things as "financial management, budgeting, and saving."
MATI now has an annual budget of $3 million, of which 40% comes from the government, while the rest comes from private donations. (By the way, the Jerusalem Foundation raised $50 million altogether last year. The Asper Foundation has been supporting activities of the Jerusalem Foundation since 1995.)
At one point in the program though, Joel Reitman, who is President of the Jerusalem Foundation of Canada, told the audience that it took Riham two years to obtain a visa to enter Canada.
That observation intrigued me, since I was aware that, like all Arab residents of Jerusalem, Riham would have been able to apply for Israeli citizenship and thus obtain an Israeli passport, thereby shortening the time that it would take to obtain a visa to come to Canada to just a few weeks.
I was almost certain that I knew the answer that Riham was likely to give to the question that I asked her, which was "Why didn't you apply for Israeli citizenship?" but I wanted to hear how she would answer it.
Her answer was a reflection of the deep ambivalence that almost all Arab residents of Jerusalem have about living in a city that Israel now claims is united.
As translated by Nomi Yeshua, Riham explained that the vast majority of Arab residents of Jerusalem feel a strong connection to the Palestinian Authority, but when the security fence was built, they were cut off from their brethren living under the Palestinian Authority. "They have to reassess how they feel about Jerusalem," Nomi explained, "and it's an ongoing process."
I'm aware that this article might not have been quite what one would have expected to read when it comes to reporting on a program titled "Shared Society in Jerusalem: How we live together." I was simply so intrigued by the presence of an Arab woman on a panel discussing how one particular program supported by the Jerusalem Foundation has benefitted Jerusalem women, both Arab and Jew alike, that I wanted to focus on that Arab woman's perspective.
As Riham observed, however, the process of integrating Arabs and Jews in Jerusalem is an "ongoing process." But, if she's an example of what can happen when someone puts aside their reservations and says they are going to work together with someone with whom they had almost nothing in common previously, then perhaps there is hope for the future.