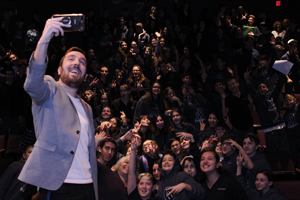 Gray Academy to participate, along with five other schools in Canada
By BERNIE BELLAN
Two weeks ago we received some interesting information from an organization known as "Unpacked for Educators" about a new program designed to help educators in Jewish schools teach about Israel. At the time we received the email we didn't realize that the individual coordinating the program is none other than Avi Posen, formerly of Gray Academy, now residing in Israel. (You can read about Avi and his wife Ilana's moving to Israel last year at https://old.jewishpostandnews.ca/features/3044-gifted-teacher-and-chazan-avi-posen-and-wife-illana-make-aliyah)
Here is the information we received from "Unpacked for Educators":
Currently, there isn't one unified, shared language or media in how to approach nuanced, Israel education. Many educators are essentially, in their own silo, left up to their own devices and technological prowess to develop Israel education curricula and coursework to engage and connect with their students. This leads educators to constantly 'reinvent the wheel' as they work out the right approach and materials for each and every issue.
To help solve this silo situation, Unpacked for Educators has launched the first of its kind, international, inter-denominational program that includes fifty schools from seven countries across the world: Canada, South Africa, UK, USA, Israel, Hungary, and Australia.
Among the schools participating in the 2020/2021 program are:
• Gray Academy of Jewish Education – Winnipeg
• Bialik High School – Montreal
• Hebrew Academy – Montreal
• Ecole Maimonide – Montreal
• Bnei Akiva Schools (Ulpana – Orot Girls & Yeshivat Or Chaim) – Toronto
• King David High School – Vancouver
The aim of the 2020/2021 Partner-School Program is to strengthen Israel education in Jewish schools around the world. This international community will be at the forefront of digital education, working together to create a shared language for how to teach about Israel. If you're not familiar, Unpacked for Educators, a division of OpenDor Media, is a leader in digital education and innovation for Israel and Jewish content. The educators in the program will receive complete access to OpenDor Media's powerful and unique video content in addition to professional development, networking and expert support.
Built to be a virtual network, COVID-19 is not slowing this program down.
Dr. Noam Weissman, senior vice president of OpenDor Media had this to add, "This partner-school program is made up of fifty diverse and forward-thinking Jewish schools across the world. We are providing them with our unique content and far more. Through this partnership program, we are also promoting collaboration, connection, and community — three things that are more important than ever in the current climate."
The Partner-School Program 2020/2021 will consist of:
• Built-Out Educational Programs with full access to all UED content & resources (including films)
• Professional Development with recurring webinars with Dr. Noam Weissman and other leading experts
• Ongoing Support and communication with our education staff, as much or as little as the school needs
• Exclusive Access to private groups for further collaboration, community building and connection
Further specifics for the regular online meetings, webinars, calls and private Facebook group/WhatsApp group include:
• Expert guest speakers in the world of Israel Education
• Educators in the program presenting their current Israel Education programs.
• Guide and all access pass to over seventy-five videos and supporting educational resources, Kahoot quizzes, discussion questions, reflection questions, experiential learning activities, and more, that Unpacked for Educators has to offer.
• Other topics and more:
• Modeling of healthy debate with presenters on opposite sides of the political spectrum.
• Language and integration
• How to engage with difficult/controversial subjects
• One-to-one consulting & training:
• Work on customized curriculum
• Flipped instruction
• Distance learning
Teachers in Jewish schools often feel isolated when it comes to developing curricula for students that will help them learn about Israel.
One educator in one of "Unpacked for Educators" 50 partner schools in the UK had this to say: "We are very excited to partner with 50 other schools from all over the world. Teaching can often seem very isolating. It becomes all about my class and my school. Collaboration is essential if we truly want the best materials and to create opportunities for our students," – Rav Rickman, King David High School.
"There are talented educators all over the world, we can now share our expertise and learn from others, to enhance the educational experience we provide."
As mentioned at the outset to this article, Avi Posen is coordinating the program. Avi contacted me to ask whether I'd be interested in finding out more about "Unpacked for Educators". I'll be speaking with Avi on August 12. We will have a full report on our conversation in the August 19 issue of the JP&N.