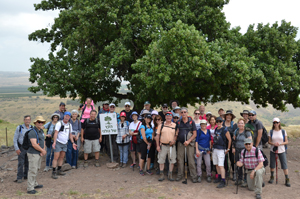 Ed. note: We received the following email last week:
Hello. My name is Jack Copelovici. My wife Ida and I made Aliyah from Toronto to Israel in 2016. It is obvious that relations are fraying between the Jews in the Diaspora and the Jews in Israel.
Diaspora Jews are also becoming less knowledgeable about what is happening in Israel.
ESRA (English Speakers Residents Association) is attempting to help to overcome that. One way you can help is by printing the article below.
The last few months have witnessed a remarkable increase in interest from Jews in English-speaking countries in making Aliyah. The reasons for doing so include Israel's relative success in dealing with the Covid-19 crisis, the rise in antisemitism around the world and the desire to live a more meaningful life in Israel as a Jew.
However, someof the big questions holding back potential olim (new immigrants), especially those who are 50+ and are already settled, may be the following:
"My Hebrew is almost non-existent; what am I going to do with myself when I get to Israel?" "Will I be able to find an English-speaking community in which I can feel comfortable or that has the same values as I do?"
One of the best ways to help solve this dilemma is by joining ESRA (English Speakers Residents Association). My wife, Ida, and I are good examples. We made Aliyah in June of 2016 from Toronto when we were in our early 60s. We had two immediate priorities: to find an English-speaking community to live in and "to get involved in Israel" by finding meaningful volunteer opportunities.
Fortunately, we found ESRA.
ESRA is an organization founded some 40 years ago. It has about 2,700 members in some 21 different chapters in North, South and Central Israel, stretching from Eilat to Nahariya and beyond. The members come from NorthAmerica, the U.K., South Africa, Australia, New Zealand and elsewhere. The programming, all of which takes place in English, encompasses social activities, outings (when conditions permit), educational mentoring and tutoring programs, charitable and welfare activities and volunteering. In addition, and because of Covid-19, a majority of our social activities, talks, visual tours and cooking classes have been and will/may continue to be presented on ZOOM.
Through ESRA, Ida and I are involved in tutoring Israeli students in English in Ra'anana schools, raising funds for charitable causes and organizing Zoom lectures on various topics. Prior to the Covid-19 outbreak, there were numerous tours to such places as: The Blaustein Institute, doing cutting edge environmental research in the Negev; Zichron Yaakov; world-famous Israeli wineries; Jerusalem antiquities and museums; The Agam Museum; The Weizmann Institute, Abraham's Well in Beersheba, and a Bauhaus walking tour of Tel Aviv, to mention just a few.
However, ESRA IS NOT JUST FOR THOSE OF YOU PLANNING ON MAKING ALIYAH!
Many people living abroad want to be able to see and hear about Israel generally and/or participate in English language programs, which talk about various aspects of life in Israel. ESRA is the perfect vehicle for that. A look at the upcoming ESRA calendar will show a number of topics, ranging from finance, current events, Jewish historical topics, the environment and pure entertainment, such as our National Trivia Quiz, as well as an assortment of other topics which are available for viewing. In short, you do not have to be here to feel like you are enjoying what Israel has to offer. ESRA can help you do this wherever you are in the World.
You can also join in an ESRA program when you are visiting Israel.
When you look at the ESRA website, you can see that there are many types of clubs, such as bridge, photography and knitting. For the hardier types, there are the monthly hikes, which have just restarted.
Bottom Line: When considering whether to make Aliyah, remember that ESRA is a way through which you can make your experience of Israel immensely more meaningful and enjoyable both from afar and when you arrive here.
How to join: Simply go to the ESRA website and follow the prompts to join. We look forward to meeting you.