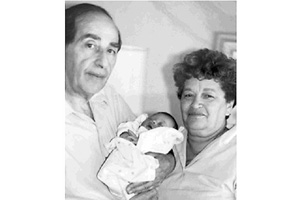 It is with great sorrow and heavy hearts that we announce the passing of father, brother, uncle, Zaida and elter Zaida Allan Chapnick just five days short of his ninety-third birthday.
Allan was predeceased by his parents, Avrom and Edis, brother, Moisha, and sister, Chana.
He was also predeceased by his loving wife of sixty-two years of marriage, Clarise. Sadly, he lost his youngest son, Moishe, six weeks ago.
He is survived by his one remaining sibling, Sara; his eldest son, Cary; daughters-in-law, Sarah (Cary), and Joanne (Moishe); grandchildren, Gillian (Kevin), Alex, Simon (Nikki), Julien, Guillaume (Camille); and great-grandchild, Adelaide. Also mourning his loss are many nieces, nephews, cousins and lifelong friends.
Although born in Poland, Allan immigrated to Canada as an infant. His early and formative years were spent in the North End of Winnipeg on streets such as Jarvis and Alfred. He left school early to enrol in the Haganah (1948) as a Machal (volunteer from abroad) to defend the newly created state of Israel. Allan returned to Winnipeg in 1949, married Clarise in 1953, and had two sons: Cary (1956) and Moishe (1960).
Allan's career was in selling life insurance. It was his conviction that life insurance was not a discretionary product but a necessity that saved young families from the poverty and misery on the unexpected loss of the family wage earner.
If there was only one word allowed to describe Allan, that word would be curiosity. The thing he was most curious about was people and their families. He could literally stop into a Robins Doughnuts and start a conversation with anyone. He had a savant like ability to remember people's birth dates. Allan and Clarise shared a love of travel and always wanted to explore somewhere that they had never been before, everywhere from California to China. Allan was a voracious reader and the genres he enjoyed most were biographies and history.
In terms of devotion, Allan walked the talk. He visited Clarise every single day from her hospitalization at Seven Oaks to her interim placement at the Misericordia to her final days at the Simkin Center.
He took nachos (pride) in his children and grandchildren and in becoming an elter Zaida.
Allan's legacy to both Moishe and me was imparting how important it is to be a good parent and he taught this to us by being a loving and supportive father.
Alav ha-shalom.