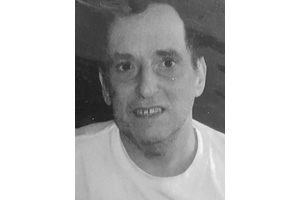 With profound sadness we announce the sudden passing of our dear brother and cherished uncle, Barry Green, on Tuesday, August 4, 2020, a few days shy of his 68th birthday.
Barry overcame many hardships and obstacles during his lifetime. Although he struggled with physical and cognitive challenges from birth, he accepted his lot in life with happiness and positivity.
Barry was employed with the Manitoba Government Postal Services for 25 years.
Barry enjoyed many years of supported independent living, at the Rosh Pina Housing Co-op. It was there that a special person noticed Barry required more care and support. Wendy Weisbrodt, Home Care Coordinator of Winnipeg North, made the connection with Nancy Hughes, Executive Director of Shalom Residences, which began the process for Barry to have the most wonderful, meaningful and caring independent life. Barry travelled to Vancouver, Toronto, Las Vegas and more, and attended all of Shalom's celebrations and events. Barry was happy, busy and fulfilled. He also fulfilled a dream and travelled to Israel with the support of Rabbi Shalom Rappaport, OBM.
Barry was the consummate Winnipeg fan – the Bombers, the Jets, the Wesman as well as Burton Cummings and Randy Bachman, two of his all-time favourites.
The last two and half years of Barry's life were spent at the Simkin Centre where he blossomed into the "Official Greeter / Ambassador" of the Centre. Always in a Jets t-shirt, jersey or t-shirt with favorite slogans, Barry had his place in the lobby and was always up for a good game of Jewish geography and a warm welcome for visitors and residents of the Simkin Centre.
Nothing was more important to Barry than his family, whom he always spoke of with love and pride. We would look forward to Barry's daily calls, which now are sorely missed.
As a brother, it was he who taught us by example the most important, basic lessons in life; to appreciate what we have, to love our family and to show compassion and empathy to others.
Barry was predeceased by his devoted parents, Rowena (July 1976) and Irwin (June 2007) and by his adoring grandparents, Manly and Goldie Rosenblat and Harry and Ida Green. Barry is survived by his sisters, Sharon Zalik (Gordon Kay) and Marsha Friedman, as well as his loving nieces, Ronit and Kari Zalik and Shira and Hadara Friedman, all special and adored in his eyes.
Gratitude and appreciation to the caring staff at Community Living Disability Services, home care, all the staff at Shalom Residences, with special mention to Natasha and Darren, to the warm and compassionate staff on Weinberg 2, as well as Barry's buddies in the Administrative Offices and front desk at Simkin.
Thanks to Dr. Cara Katz for her expert medical care and for giving Barry a new lease on life.
Barry was laid to rest on Thursday, August 6 at the Shaarey Zedek Cemetery. Rabbi Avrohom Altein officiated.
If desired, donations in Barry's memory can be made to Shalom Residences, the Simkin Centre or to a charity of your choice.
Rest in peace dear brother and Uncle Barry. We will miss you and love you forever.