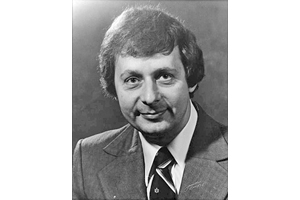 It is with heavy hearts that we announce the passing of our beloved father Arthur Mervin Werier on August 21, 2020, at the age of 82.
He was predeceased by his parents Abe and Bessie Werier and is survived by his sister Carla, son Kyle (Wendy), daughter Stacy (Jason), niece Audrey, nephew Alan and his cherished grandchildren, Vance, Levi, Annika and Brittany.
Born in Winnipeg's north end in 1938, dad had a wonderful, happy childhood. He often recalled fond memories from his time at Peretz school, fishing and camping trips with his dad, summers at Winnipeg Beach where he was a lifeguard, and going to the movies with his sister at the College Theatre. He played every sport from swimming to tennis, joined every club and formed many of his lifelong friendships during these early years.
In his teens, when the family moved to River Heights, dad was enrolled at Kelvin High where he continued to build strong bonds through this involvement with BBYO, AZA and many school clubs. He was President of the Toppers and while pursuing Law at the University of Manitoba, he was President of his fraternity, the Sammy's (Sigma Alpha MU).
Dad was a perfectionist. He never started anything he didn't intend to finish to the last minute detail. Throughout his law career, he never lost a single case, and when asked how, he said, "I didn't take it on unless I knew I could win." After retiring from law, he went on to work in property management for many years and ran his business with strong ethics and a kind heart. In business and life, he was tough, but he was always fair.
He taught us so much about how to be good humans. He showed us what integrity looks like, how to be a mensch and what it means to have a social conscience, how to be pragmatic, how to make good decisions, how to live without regret and, most importantly, that life is too short to be unhappy. He always said, "happiness is a choice and you can choose to be happy or you can choose to be miserable, but the only one you're hurting is yourself."
Dad loved music, movies, dancing, sports, waterfalls, literature, grammar, puzzles, popcorn, a good debate and his beloved Bombers. He prided himself on a flawless record of never missing a game in 60 years until he got too sick to go. He travelled the world, saw almost every musical, was a wonderful singer and was famous for his one-liners. He played tennis, racquetball, curled, bowled, was an avid golfer, and of course, a world-class table tennis player. He first played for UM from 1957-60 and then went on to play competitively, capturing numerous Canadian and international titles.
Heavily involved in developing table tennis in Manitoba, Dad grew the local association to over 45 teams, making it the largest league in North America at the time. He developed two Canadian Junior Champions, was a coach, trainer and official at the 1967 Paraplegic Pan Am Games and 1971 Canada Winter Games. He participated in four worlds and three Commonwealth Championships. He served on the Manitoba Table Tennis Association (MTTA) executive for 22 years, ten of them as President, and was Vice-President of the CTTA for a decade. Internationally, he was Vice-President of the International Table Tennis Federation and on the executive of the Commonwealth Table Tennis Championships. One of the founders of the Manitoba Sports Federation, he was the Chair from 1973-75 and in 2017 was inducted into the MB Sports Hall of Fame.
Competitive as he was at sports, Dad was the complete opposite in life. He didn't approach life to win or compete. He valued relationships over things and chose to put his energy into people over possessions. He valued truth, honesty and the human connection.
He was never sick a day in his life until he was struck ten years ago with one life-threatening illness after the other. He fought a courageous battle and faced every day with dignity, strength and grace.
The last month was harrowing. As happens with any terminal illness, one vacillates between hoping for the suffering to end and negotiating with god for a recovery. But every minute; every second with him, whether he knew we were there or not, was priceless. He wasn't just our father, he was our heart, the rock that we stood on, our compass through life, our advisor, confidant and our guiding light. He was deeply loved, and he will be deeply missed.
As his sister Carla said at his funeral, he is now in heaven with his parents, catching them up on the news of the last fifty years and he hasn't stopped talking since he got there.
The family thanks his nurses Kate, Jean, Jamie and the doctors on A3 at HSC. A very special thank you to his amazing caregivers Jonny and Hailu who gave him love, strength and respect.
Donations can be made to Cancer Care Manitoba or the Jewish Foundation of Manitoba.