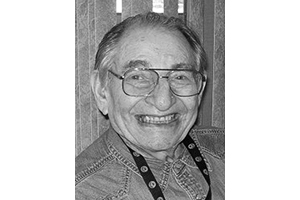 Sol was born in Winnipeg on December 4th, 1925 and passed away on June 29th, 2020 at the Grace Hospital with family by his side. His funeral was held on July 1st, 2020 and was meaningfully conducted by Tracy Kasner Greaves.
Sol was a very hard-working and independent man. He had a great sense of humour and was well liked by all he came in contact with.
He loved his beautiful farm in Stony Mountain, a short commute from the city, where we lived. We have fond memories of celebrations, BBQ's, hayrides, cycling, and walks. Dad served as the large animal zookeeper for the municipality and we literally had a menagerie of unclaimed lost animals including a Shetland pony and a billy goat. Although a busy guy with the farm operation, he made sure we attended the Red River Ex every summer. He loved all manner of mechanical things including skidoos and dune buggies. Our dad had a zest for life!
In his later years, he regularly attended Gwen Secter Creative Living Centre for exercise and social activities. He discovered that many of the friends he made at Gwen Secter found their way to the Simkin Centre, where he lived for five years. When he lost his ability to walk, he did not despair, he got wheels and motored everywhere on his electric wheelchair. He was a regular at Shabbat Services and joyfully participated in recreation activities. He tenderly watered his tomato plants daily in the home garden. Dad received care that made a difference from many, including Sara, Cheryll, Olga(s), Gemma, Manny, Joey, Salfie, Connie, and others.
Sol is predeceased by his wife, Marion, and son Mark. He leaves behind his children – Harold, Rochelle (Ed), Nancy (Laurie), Gail, and Earl (Linda), and grandchildren – Katie, Carly, Alex, and Anna.