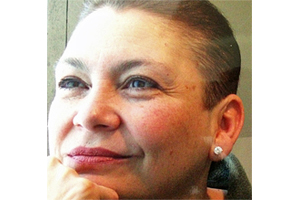 It is with such sorrow in our hearts that we announce the passing of Marla Bernstein. After a long illness Marla passed away peacefully on July 26, 2020. Marla was truly adorable in every way. She was a wonderful conversationalist, a great listener and had a smile that could brighten even the darkest days. Her greatest joy was to cuddle up on the couch for a great chat or to watch a favourite movie, CNN or the food channel. She was always great company!
Marla grew up and lived most of her life in Winnipeg surrounded by the family she loved so dearly. She married her high school sweetheart, Barry Bernstein and the two of them worked together selling real estate as "Team Marla & Barry". They enjoyed travelling to Scottsdale, Arizona to visit their daughter, Brenlie and her family, and to Ottawa to visit their daughter, Hilary. They were truly devoted parents and grandparents.
Marla is predeceased by her husband of fifty years, Barry. She lives on in the hearts of her daughters, Brenlie Nagy and Hilary Meggison; her son-in-law, Jim Nagy and her beloved grandchildren, Lauren and Cole Nagy. She will forever be adored by her mother, Edith Yager; her sisters, Maureen Tabak, Debbie Jacob & Libby Yager; her brothers, Jerry & Mardy Yager; her brothers and sisters in-law, Sheldon Tabak, Kurt Jacob, Cintia Yager, Billy Brodovsky, Sarah Yager, Morley Bernstein & Kenny Bernstein; her nieces and nephews and numerous other sweet, dear family members and friends. She was loved by many. We hope she's dancing through eternity with her one and only love, Barry.
Donations in Marla's honour may be made to the Canadian Cancer Society.