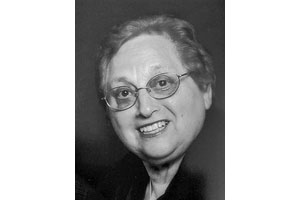 Enid Lenore (née Goldberg) Malkin, born July 4, 1933, in Winnipeg to Bert and Anne Goldberg. Died August 18, 2020.
Enid married Leslie Malkin, M.D. (of blessed memory) and was mother to Fred (Ruth), Irvine CA; Jerrold, Salinas CA; and Morton (Cheryl), Chapel Hill NC; also grandmother to Daniel, Rebecca, Hayley, and Norah.
Enid graduated St. John's Tech High School; Mt. Sinai Hospital School of Nursing (RN); San Jose State University (BSN/MSN); and finally obtained a Ph.D. from La Salle University.
Enid's career as a nurse spanned over 50 years and covered many areas including teaching, research, and consulting. In addition, Enid was active in her synagogue, writing book reviews for the various bulletins for almost 20 years and actively reading from the Torah.
Enid created assorted ladies' book reading groups. She loved to travel with Leslie, visiting many countries where he did family genealogical research. Or, they just went on cruises to escape from it all.