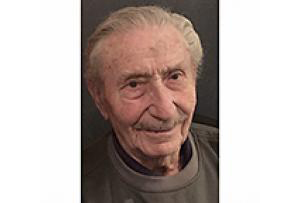 It is with great sadness that the family of Ben Rykiss announce his passing, at the age of 97, on Monday, September 21, 2020.
Ben leaves to mourn his loving wife of 72 years, Fay, sons, Mark (Barb), Neil (Susan) and Les, his grandchildren, Jared, Caleigh (James), Sarah (Ira), Matthew (Yaffa), Dave (Olivia), Shaun (Amanda), Rebecca (Jeff), Marissa (Camilo), Michaela and Jaron, as well as many nieces and nephews. Ben was predeceased by his parents, Nathan and Dora Rykiss, Samuel and Clara Fink, his brothers, Max (Belle) and Hy (Adele), as well as his brother-in-law and sister-in-law Manny and Pearl Fink.
Ben was born May 25, 1923, in Winnipeg. A strong believer in education he graduated from University of Winnipeg with a bachelor of social work and then went on to gain his masters in social work from the University of British Columbia. Upon graduation he and his wife Fay returned to Winnipeg where he began his career in social work at the Deer Lodge Hospital. In 1969 he accepted the position as the Director of Social Work at the Selkirk Mental Health Centre where he essentially remained until his retirement at the age of 65. It was during this time period that he became heavily involved with the Jewish Child and Family Services, an organization very near and dear to his heart. It was there that he was able to volunteer his professional skills to best help those in need.
Ben was an athlete his entire life. From his youth through his late senior years, he played a multitude of sports including football, hockey, curling, swimming (with his famous green bathing cap), softball, downhill skiing, but he was mostly passionate about golf, fitness and tennis. He was a founding member at Bel Acres Golf and Country Club where he played for many years, until he replaced it with his true passion, tennis which he played religiously well into his 90s. To the people who knew him best, Ben was a fitness legend. He was an effortless long distance runner, and had a daily regimen of exercise that included 200 push-ups a day into his 90s.
His greatest joy however was his family. He was a fabulous grandparent and was adored by every one of his grandchildren. Zaida Ben had a special, unique relationship with each grandchild which will leave them all with lasting memories for a lifetime. That was his true legacy!
The family wishes to thank the wonderful and dedicated staff at Misericordia Hospital, Cornish 6 including Dr. Reda, David Rowe, nurses and aides – Dorothy, Amanda, Wendy, Tracy, Yves and others for doing everything they could to keep our father safe and as comfortable as possible to the very end.
A special thank you to Dr. Sheldon Permack along with his fabulous team including, Scott, Sandy and Chelsea for their unbelievable dedication to our dad's care.
We would be remiss if we did not thank all of our family and close friends for their humbling outpouring of love, support and generosity.
Pallbearers were Mark, Neil, Les, Jared, Matthew and Jaron Rykiss. Honorary pallbearers included Shaun Rykiss, David Fink, Steven Fink, Alex Katz, Brent Rykiss, David Marantz, James Byers and Ira Lindenberg.
In lieu of flowers, donations can be made to the Ben Rykiss Memorial Fund at the Jewish Child and Family Services in Winnipeg (204)477-7430, or any charity of your choice.
Dad we will always love you and miss you.