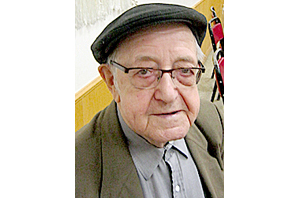 Saul Spitz passed away on Sept. 19, 2020.
He was born on March 7, 1928 in Mád, Hungary.  Saul grew up in an Orthodox home and attended Cheder.  
In 1944, his family was taken to the ghetto and later to Auschwitz and other camps in Germany.  Saul survived Auschwitz by not following Dr. Mengele's direction to go to the left.  He wanted to stay with his father, so he ran to the other line.
After liberation, he returned to Mád to find that there were no survivors from his family and friends so he decided to go to Palestine.  He spent almost 3 years in DP camps waiting to make aliyah to Palestine but the people in charge of the illegal immigration had other priorities, so he waited – without success.  Saul finally had a chance to come to Canada as the Jewish Congress had 1000 visas for orphans.
Saul arrived in Winnipeg on March 21, 1948.  He worked in a garment factory and later became a salesman for Western Smallwares, then later Manitoba Lotteries.
After he retired, he made it his life mission to look after the Ashkenazie Synagogue where he was president, shamash, treasurer and caretaker.
Saul was a kind, generous person who never took anything from anybody.  He gave tzedakah and was a good person and friend.
At the age of 90, he had to move into the Simkin Centre where he lived until his passing.  Saul was loved by all the staff and nurses there.  He attended the synagogue there and did all the blessings at meal times.  
Many thanks to Lisa, his caregiver, who looked after Saul more than was expected.  Lisa made sure he had all the comforts and spent the last hours with him at the Home and hospital.
Saul had no family in Winnipeg but he had good friends.
We love you and will miss you Saul.