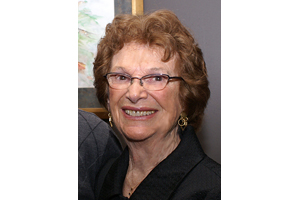 It is with great sadness that we announce the passing of Bernice Walder at the age of 95, at the Simkin Centre.
She is survived by her loving husband of 68 years, Allan, her daughters Marilyn (Lorne) Billinkoff and Sharon Walder (Lorne Pollock); her grandchildren Mitch Billinkoff and Alix (Natan) Cramer, Lorne Pollock's children Kara, Megan and Thomas and her great grandchildren Shalev, Boaz and Nava. Bernice was also a devoted Aunt, especially to Andrea (Terry) and Joel (Kelsey) and their families. She was predeceased by her beloved parents Abraham and Rae Zipursky and her sister Bess (Martin) Greenberg.
Bernice grew up as part of a tightknit family in Winnipeg's north end; after high school she attended the University of Manitoba. While working as a secretary, she met Allan Walder at a dance; they were married on March 16, 1952.
Bernice was a kind, sweet woman who would go to any lengths to help her family and friends. But most of all she was a devoted wife to Allan. They were inseparable, and that's the way they both wanted it.
Bernice's favorite hobbies included bridge, mah-jong and bowling. In later years she and Allan became avid travelers, enjoying vacations in Maui and Palm Springs, often with their friends.
Bernice was a very happy person. Her pet phrases were "all is well" and "enjoy every minute". Words to live by.
The family would like to thank the compassionate staff at the Simkin 1 unit, Shella and especially Leena, for her loving care and devotion to Bernice, particularly in her last days. Donations in Bernice's' name may be made to the Saul and Claribel Simkin Centre, or the charity of your choice.