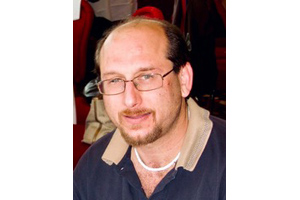 It is with great sadness we announce the passing of Steven Joel Boroditsky on Sunday, December 13th 2020. He is survived by his parents, Diane and Richard Boroditsky, by his brothers, Alan (Lisa), and Michael (Elizabeth) Boroditsky, as well as by his nieces and nephews, Matthew, Jordan, Emma, Noah and Maddy.
Steven grew up in Winnipeg, graduating from high school at the University of Winnipeg Collegiate. He furthered his education at the University of Winnipeg and completed Business Administration from the British Columbia Institute of Technology (BCIT).
Over the years Steven lived in a variety of places, from Calgary and Vancouver to Lake Louis and Israel. He would blend right in, making friends quite easily. He quite enjoyed sharing a laugh and a smoke. Steven was known as a people person by showing sincere interest in everybody that he met. He was a very loyal and genuine friend. He took great pride in helping out anyone, whether it was moving a couch or re-wiring the internet.
Steven would not shy away from adventure. This was exhibited early on when he decided to walk home from Gimli. He actually made it all the way to Selkirk. However, some of his adventures were not always well thought out. Fracturing his collarbone playing Frisbee golf on a 4×4 is a great example. Steven was filled with courage, determination and a whimsical nature.
Over the years Steven did have his struggles with mental health, but again and again he found the strength to get better and move forward. He had numerous support systems, which he used to help navigate some of the troubles. He was truly grateful for those people supporting him through his darker days.
Steven's true love was being in Gimli – spending time with his nieces and nephews. During the many summers at Gimli he would have the pleasure of spending quality time with them all. Gimli also provided him with the company of old friends…having a visit on the beach, a game of backgammon in the porch or a bonfire late at night. Steven was happy to visit and spend time with family and friends.
Uncle Steven would never say no to the kids, always wanting to be involved. It was not too many years ago he joined in a roaring match of beach volleyball. This was likely the final cause for his needing hip surgery. Uncle Steven did not care; to him it was worth it, just to spend time with the kids. Steven also loved one on one time with his nieces and nephews, spreading his wealth of knowledge and experience. Steven would remind them: Do what he said, not what he did!
Steven had a difficult life, but he was a kind soul, loyal person, loved son and proud uncle – one that made a lasting impression on the numerous people who had the privilege of knowing him. Please do not remember our uncle, brother and son as just another statistic. Rather, remember Steven for the kindness he spread to everyone he knew. He will be sadly missed.
Special thank you goes to everyone who has helped us navigate this difficult process. Should people wish to show their respect in memory of Steve, donations can be made to your local Jewish and Child Family Services.