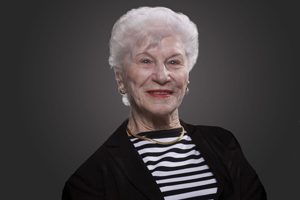 Born in Rosichik, Poland, Betty was one of nine children of Avrum and Reina Hochman. At eight years old, she immigrated to Canada with her family. She married the love of her life, Herschel (Harry – predeceased 1997) and the fun began.
First came Raymond (Sandy), then Corinne (David Billinkoff), Marty (Roz), Jeff (Erin) and Barry (Heather). She orchestrated a balibatisha home, working from dawn to dusk, cooking, cleaning, baking and working with her husband, and did it all without complaint.
The true matriarch of the Greenfeld/Hochman family, every Shabbat the candles were lit with the family sitting around the table, eating all the complex Jewish dishes that have been banned from healthy diets in 2022.
The true test of her spirit lies in the hearts of her ten grandchildren: Lee [Yolanda] and Fern Billinkoff [Jeremy]; Karmel, Gillian, and Yael Greenfeld [Chris]; Cecily Elmas [Peter]; Joshua [Jodi] and Jay Greenfeld [Ashley], and Amy Dorsch [Daniel]; and Alexandra Greenfeld; and her 16 great-grandchildren. She is survived by her sister Clara Berkowitz and her brothers, Benny (Phyllis) and Sammy (Jackie) Hochman.
We will always remember her unconditional love, her work ethic, her boundless energy and words of wisdom, authenticity, truth, and directness. She taught all of us to be strong, confident, resilient, inclusive and most importantly, to value family.
After 99 years of robust health, eating well and exercising daily, she decided that it was time to go. In the end, she was surrounded by her devoted children, in her own home, and as always, on her own terms. She just hung up the phone.
Mom, you gave us your whole heart and expected nothing in return. We will take your love and pay it forward in your memory. We thank you and will love you forever and always. Forever and ever our mother you'll be.
The family thanks pallbearers, Lee Billinkoff, Joshua Greenfeld, Jay Greenfeld, Shim Goldberg, Larry Hochman and Sherman Greenfeld. Thank you also to all the healthcare workers who made Betty comfortable at home in her final weeks, particularly Merlin, Lilibeth and Claire, who gave heart to their care. To the friends and family who generously comforted and fed us at this time, we express our heartfelt gratitude.
In lieu of flowers, contributions may be made to the Harry and Betty Greenfeld Fund at the Jewish Foundation of Manitoba or to a charity of your choice.