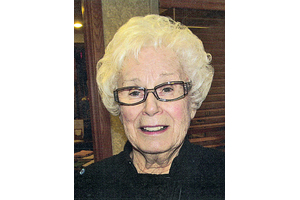 On May 4, 2022, Hashem softly, and with love, carried our mother, Doris Steiman, to her eternal home. She was predeceased by her husband Meyer Keppy Steiman in 2012, her mother and father: Lily and Mandel Minuk, brothers: Bill, Julius, and Sam Minuk, sister: Ruth Racklin and grandson: Mark Steiman.
Doris was a loving and proud mother, Babi and grand-Babi to her children: Karen (Ivan) Brodsky, Gerry (Sandi) Steiman and David (Sheila) Steiman, her grandchildren: Adam (Valerie) Brodsky, Matthew Brodsky, Josh (Jennifer) Steiman, Jennifer (Sam) Banayan, Michelle (Jordan) Edelman, and Cheryl (fiance Lisa Price) Steiman, and her great grandchildren: Lauren, Eden, Shai and Sol Brodsky; Marissa, Rachel and Samantha Steiman; Abigail, Layla and Jack Banayan; and Penelope and Robert Edelman. She was an amazing, wife, mother, mother-in-law, Babi and grand Babi
Mom grew up on Aberdeen Street and attended Peretz School, where she was the class valedictorian. After graduating from St. John's High School, she worked at Minuk's Department Store on Dufferin. During this time, she was courted by my dad who would bicycle to see her bearing gifts of marshmallow puffs. Mom and dad were married on March 22, 1942, at the Hebrew Friends Temple in Winnipeg. They resided on Kennedy Street where Karen was born. A few years later, they moved to Scotia Street in the North End where their two sons, Gerry and David were born. Mom and Dad were a loving and caring twosome for some 70 years.
Mom was a passionately devoted mother who considering herself fortunate to always be home when her children arrived from school. Education and academic excellence were uppermost in her mind. After her children were all grown and independent, mom did a stint selling furniture, helping out our dad at the Hargrave furniture store.
Judaism played an important role in our home. Mom set a lavish Shabbat table with food and finery. As an active participant at Rosh Pina, she was involved in Women's League, theater groups, and fashion shows. She was also active in B'nai Brith and ORT.
Mom excelled in the kitchen; every meal was deliciously prepared and served. In addition to regular cooking, her fancy desserts and tortes were legendary. Her cherry flips and carnation rolls were the best! Entertaining gave mom much pleasure. She was a gracious hostess whether it was welcoming friends to Scotia, Tuxedo, Loni Beach, or winters in Palm Springs. Our mother and father appreciated and loved beautiful traditional and antique furnishings. This appreciation has been passed down to her children and grandchildren.
For almost 60 years, Mom spent her summers in Loni Beach. She would hold down the fort while dad worked and drove to Winnipeg daily. Having her children and grandchildren visit was most exciting for our mother. In anticipation, she would fill two large freezers with her wonderful cooking and scrumptious baking, making sure everyone's favorites were represented. Her children and grandchildren were fortunate to spend many summers at Loni Beach – swimming, building forts, painting, and playing badminton.
Mom was an Eshet Chayil as well as a Yiddishe Momma, the matriarch of our Minuk clan and of our personal Steiman family. As with the biblical matriarchs, she will be lovingly remembered for her strength, determination, clarity of thought, and fierce love of family. We all learned many important lessons from her and for this we will always be grateful. Mom, we will forever miss you. Our abundant memories of your enduring love comfort us.
Our family wishes to acknowledge the compassionate care and support given to our mother during her several years at the Simkin Centre. Donations in Doris Steiman's honor may be made to the Keppy and Doris Steiman Fund at the Jewish Foundation of Manitoba, Congregation Etz Chayim, the Saul and Claribel Simpkin Centre, or charity of choice.