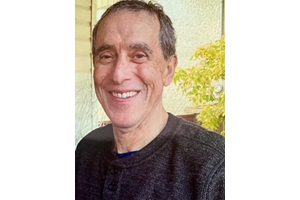 It is with profound sadness that we announce the tragic and sudden passing of David Perlov on May 13, 2022 at 72 years old, in hospital surrounded by his family.
He is survived by his wife of 48 years Rona (nee Weinberg), son Daniel (Heather), daughter Allison, and grandchildren Hayden, Oliver and Eden. He is also survived by his siblings Claire Goldman, Saul Perlov, and Yvette Perlov, as well as many nieces, nephews, great nieces and great nephews to whom he was very close. He was predeceased by his parents, Chashka and Feivel Perlov. He will be dearly missed by his family and many friends.
David was born on December 21, 1949 in Winnipeg. From an early age he developed a strong work ethic, helping in his parents' bakery, delivering newspapers and selling Dickie-Dee ice cream as a child. Later on he tried his hand at many jobs, from selling encyclopedias to driving taxi, while in university pursuing higher education. He then received his law degree and was the only lawyer in his graduating class to immediately open his own practice. David ran this practice for over 35 years, and left his mark on the community. He continued to practice law for a few more years at Thompson Dorffman Sweatman and only recently gave up his license to practice.
Even through his dedication to work, he always found time for family, friends and many various interests. David was passionate about charity and contributing to his community. He sat on many charitable boards and participated in active fundraisers. David valued a healthy and active lifestyle including swimming, golfing, hiking and was an avid cyclist. Up until a decade ago, he enjoyed activities such as skiing, hockey and racquetball. He enjoyed playing cards and photography, as well as movies and live theatre.
David was a devoted family man. He will be missed by many, but especially his grandkids. He would always attend his grandchildren's activities and performances and saw them daily when he drove them to and from school. He loved them with all his heart and they made him endlessly proud.
The funeral was held on Tuesday, May 17, 2022 at Rosh Pina Cemetery. In lieu of flowers, donations can be made to Cancer Care Manitoba, The Jewish Foundation of Manitoba or a charity of your choice.