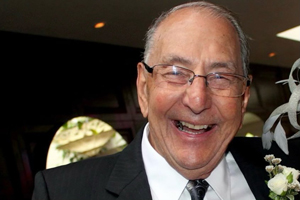 Following a life well lived, Al passed peacefully on May 14, 2022, at the age of 95. He lived life with a smile on his face and a twinkle in his kind eyes. His glass was never half full, rather it was overflowing.
 An industrious and hardworking young man – Al started his career in the early 50s as a car salesman at Gladstone Datsun (under the sign of the swinging keys). His exuberant personality quickly propelled him to Sales Manager and so began his dream of owning his own car lot. He changed course in the early 60s when an opportunity arose to buy a partnership in the McLaren Hotel. Although it was never his first love, he brought his optimism and energy to work every day and was much liked and respected by patrons and staff alike. In 1969 he and his wife Lona fulfilled a long-time goal of their own by designing and building their dream home where he lived until his passing.
After retiring from the hotel in the early 70s his attention turned to a beloved hobby of art collecting. Never one to stay idle, and always hoping to get back into sales, he opened the Concourse Aboriginal Gallery in the Trizec Building, where he thrived. He moved the gallery to Notre Dame and Albert in the early 80s and he remained working until his retirement last year at the age of 94. His great energy and kibitzing nature endeared him to all who crossed his path, and the gallery remained a welcoming hangout for friends, artists, and neighbourhood residents who often dropped by for a laugh and a coffee.
His legacy will be his extreme generosity that benefited many. Despite his favourite shopping destination being the Dollar Store, he will be recognized and admired for his donation of the entire Concourse Gallery contents last year to SScope. The prominent and unexpected media coverage of this unique donation touched him deeply.
We are so happy that he spent his last winter in Palm Springs with his partner Estelle, enjoying the sun, many friends, and his status as a champion horseshoe player.
Al was predeceased by his wife Lona and sister Dorie and is survived by his sister Esther.
He will be missed by many friends and relatives and leaves to mourn his partner Estelle and her family, his daughters Maureen (Dave), Lesli (Don), grandchildren Rakel, Jordan, Dana (Jack), Alix, Max (Cassie), and great grandsons Frank and Ed.
A true mensch and our go to guy for everything, he will be missed by all who had the pleasure of knowing him.
Donations in Al's memory may be made to ArtCity: https://artcityinc.com/Financial- Donations, Harvest Manitoba: https://www.harvestmanitoba-.ca/donate-now/, or a charity of your choice.