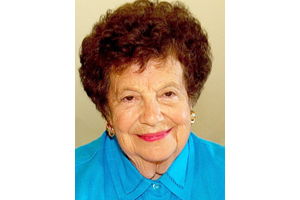 It is with great sadness that we announce the peaceful passing of Beverley Manishen at the great age of 95 on May 10, 2022 at the St. Boniface Hospital in Winnipeg.
She will be deeply missed by her sons James (Joy), Jeffrey (Joanne Anderson) and Dr. Wayne (Carol) Manishen, grandchildren Sarah, Ira, Aaron, Jaclyn and Joshua Manishen plus the many in Beverley's extended family and friends. Shortly before her passing, Beverley was living in her own Tuxedo house, independent as always, shopping, cooking, reading her beloved New York Times, staying in touch with friends and observing the world with probing insight she never lost.
Beverley was born on January 4, 1927, the only child of Jack and Mary Stein. She grew up in the south end of Winnipeg, graduating from Kelvin High School and then attending the University of Manitoba. Beverley was an excellent pianist and Manitoba Music Festival winner. Adjudicator Arthur Benjamin – the famous composer/pianist and piano teacher of composer Benjamin Britten – was so taken with her playing, he offered to arrange a scholarship for her to study with him at London's Royal College of Music. But that wasn't something young Jewish Winnipeg girls did at that time. In keeping with that, a few years later a match made in heaven took place.
Picture a very dashing, charismatic, creative young man with a warm smile and playful humour. Now picture a sweet young thing, petite and pretty with an infectious laugh and eyes that sparkle. It is easy to see that on a warm summer's night in Winnipeg Beach these two might spot each other and begin a love and friendship that would last a lifetime.

This was Melvin Manishen and Beverley Stein. They were married on July 2, 1947 and enjoyed almost 60 years together before Melvin passed away on November 10, 2006. Beverley mourned his loss every day for the rest of her life.

Beverley's devotion to family-and-friends (notice the hyphen, because friends became family) was extraordinary. She was always there for everyone.
She understood the rough and tumble world of business and her support for Melvin's career was unwavering. She knew that business owners needed to savor success in order to be motivated, and Beverley insisted Melvin feel that way while he worked so hard to support the family. Many business friends and rewards followed, both here and in Palm Springs where so many unforgettable winter moments were spent at the family retreat.
She was totally behind all the efforts of her three active sons, always there to stimulate their diverse interests as they moved forward with their lives. Her grandchildren were precious to her.

And then there were the friends, or better put, friends for life who adored Beverley. That was what she sincerely cultivated.
Beverley loved them all and went out of her way to know their deepest interests so that she could elevate their lives through a gesture, a gift – anything that would make them feel special and valued, aided by her incredible memory of their smallest details. Never did she attend a gathering without a call the next day to tell the host how much she enjoyed the event.
While fishing, golf, music and travel were passions that Beverley and Mel shared, community involvement and philanthropy have been central themes in the Manishen home. Beverley was a past president of the Shaarey Zedek Sisterhood as well as past president of the Israeli Chapter of Hadassah. No charity went unanswered.
Beverley's funeral was held Friday May 13 at the Shaarey Zedek Memorial Park, Rabbi Anibal Mass officiating. Pallbearers were James, Joy, Jeffrey and Dr. Wayne Manishen, George Bricker and Dr. Neal Lerner. Special recognition must go to Wayne, whose extraordinary care for Beverley's needs permitted her comfort and security over many months.
Donations in Beverley's memory may be made to Congregation Shaarey Zedek, L'Dor Va Dor Capital Campaign at https://szfuture.ca or by calling 204-452-3711.