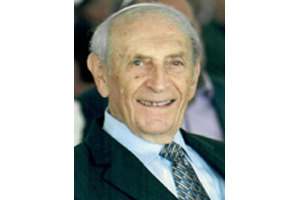 It is with heavy hearts that we announce the passing of Mickey Kraut on May 11, 2022 at the age of 95 years.
Mickey will be missed by his wife Rhoda, children Deana and Michael, step-children Marlon and Cheryl-lee, his five grandchildren and five great-grandchildren.
He passed away peacefully with his wife "Rhodie" and daughter Deana each holding his hands.
Mickey was born April 2, 1927 in Poland and went on to immigrate to Canada. He ended up in Winnipeg where he owned Winmore Clothing and was known as "Mr. Winmore." Mickey enjoyed fishing, swimming, many travels with his Rhodie, and watching the Winnipeg Blue Bombers. Mickey had great love for his family and enjoyed having a full house. He was a very proud, kind and humble man.
Mickey's funeral service was held graveside at the Shaarey Zedek Cemetery on Friday, May 13, 2022. Many thanks to Rabbi Anibal Mass and Estelle Raber from the synogauge.
Special thanks to the pallbearers" Kerry Gertenstein, Carrie Madden, Jakob Paquette, Sam Slutchuk, Zahra Slutchuk and Randy Thiessen.
The family would also like to thank Mickey's careworkers who went above and beyond: Josie, Mel, and David.
The world has gotten a little darker without his presence. May his memory be a Blessing. Donations may be made to a charity of your choice.