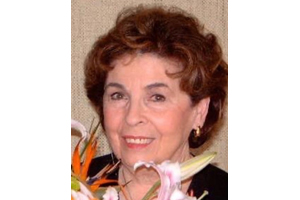 With aching hearts and great reluctance, we share the sudden passing of our beloved mother and best friend, Eleanor M. Burke (Shatsky) on December 12, 2021 at her home in Vancouver BC.
Born in Winnipeg MB on April 14, 1929 to Bert and Miriam Shatsky, mom was the middle of three sisters: Bernice Birnbach and Sherry Thompson, both of whom predeceased her. She spoke of them often, keeping their memories alive with colourful anecdotes and memories of their shared lives.
Our dad Morris, or Maishe as mom called him, passed away February 17, 2018 and mom missed him greatly every day, as do we. Married almost 68 years, they shared an amazing life together, as mom recorded in her final years with vivid clarity and detail. We were all blessed to have the whole family together in Vancouver for the last years of mom's and dad's lives and they are survived by us, her kids, David, Joel and Baillie, along with daughter-in-law Sharlynne, son-in-law Jeff, and her cherished grandchildren, Connor, Sarah, Ava, Kiera, and her paternal brother Morley (Shatsky).
Mom got her early education and love for music at Winnipeg's first Jewish Orphanage where the three sisters lived during the week after their mother Miriam died at a young age. On weekends the sisters went home to their father after he remarried and their loving, devoted Auntie Annie (Zelickson) took a hand in raising them alongside their cousins as they all grew up together as siblings. This closeness would last all their lives.
Mom and dad met when she was 15 and he 16, at the home of a relative. She was entering Grade 11 at St. John's Tech and he was beginning Grade 12 at Fort Garry University on Memorial Blvd. It would be eight years before they would marry – on July 1, 1951, after dad graduated medical school from the University of Manitoba at the young age of 23. Mom worked as a secretary and assistant and had her own apartment, but a job opening for a physician in a small town led them to beginning their lifelong adventure together. With two weeks to marry before dad had to begin his new job, they went to Erickson MB, then on to Norway House, followed by Wapella Sask. and back to Winnipeg – after being away for 10 years.
Mom told stories of their lives, the people they met, the challenges they overcame, and the memories that filled their early years together. Throughout it all, mom maintained a Jewish, kosher home whose door was always open to the many dear friends they made in those years. We siblings were all born in Winnipeg surrounded by our large extended family and we were blessed to have an idyllic upbringing, thanks to our folks' unconditional love, guidance and commitment to family.
Mom discovered her passion for singing as a child. She was gifted with a rich contralto voice that was known for its special quality and deep resonance. It always brought tears to our father's eyes when he saw her perform. She sang in choirs all her life, starting with the Shaarey Zedek Synagogue Choir, the Philharmonic Choir, and the Manitoba Opera. She was in demand for weddings and events in the Jewish community and any group that needed an entertainer. She had a wonderful repertoire of Yiddish, Hebrew and English melodies and dearly loved singing and speaking in Yiddish as it reminded her of her youth. She remarked in later years that she adored singing for seniors because she was always looking for her mother who passed away too young at the age of 47 when she was eight years old.
Mom was always interested in working with seniors, regularly visiting not only her beloved Aunt Annie in the Sharon Home (later the Simkin Centre), but making the rounds to others who didn't have regular visitors. She entertained the 'inmates' as she often joked, singing for them as she had done for her own family elders, often with a group of talented women and men she organized to sing, play piano and serve baking. She brought in school children in various grades to partake and interact with the residents.
Mom led a group of volunteers from her synagogue sisterhood for over 35 years, and gave of her time and energy selflessly. She enjoyed and absorbed the stories of people's lives, often lending an ear to their woes. Mom was committed to keeping a traditional Jewish home and threw herself into every holiday and life-cycle event that had her hosting dinners and get-togethers where the whole family was always welcome. Never having a mean word for anyone, she chose to see only good qualities in a person and, if necessary, she'd make them up if there were few. Just as she saw the positive in every situation, always encouraging us to 'pull (ourselves) up by our bootstraps' as she used to say, she was an eternal optimist, singing and humming from sun-up to sun-down, always intent on accomplishing what she set out to do each day lest she not have a productive day to report.
With her charm and grace, she made a wonderful partner for Maishe, supporting and encouraging him with her calm and gentle nature. She uplifted all those who spent time with her and even reframed her painful memories into life lessons that formed the basis of her adaptability and resilience. She often spoke of the gratitude she had to have the life she lived with her sweetheart Maishe.
Of her many accomplishments, she was most proud of her children. To us, she embodied the perfect mother: elegant and glamorous – she was always 'put together' in such fashionable attire that belied how hard she worked to be an active member of the Jewish community, devoted wife and partner, mother, friend, sister and daughter. Fresh baking always awaited us when we got home from school and never did a simple peanut butter sandwich make its way into our school lunches… always a five course bursting bag lunch still warm from the morning.
A voracious reader all her life, mom insisted on watching the news incessantly and reading two newspapers every morning. At the age of 92, she could hold her own on current and past events and speak intelligently on a variety of topics. Her friends adored her wit and humour and we siblings recall our childhood filled with laughter, music, aunts, uncles, cousins, friends and often strangers welcomed into the home, always with the aroma of her wonderful cooking. The love she had for Maishe, her family and Judaism, her loyalty and compassion – all served to set an example for how she wanted us to live our lives – by example. She had a strict moral compass and believed in her ability to persevere. She was indeed our best friend, our soft place to land in any situation. Her legacy as a 'gutteneh neshama' – a 'good soul,' will be cherished by all of us who will miss her and dad everyday.
Your warmth and light will live on in us, mom, and we know you will be singing with dad at your side until we all meet again.