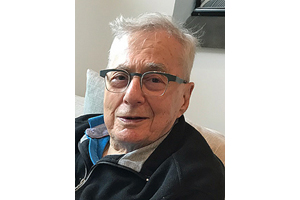 It is with great sadness that we announce the passing of Melville Neuman on April 26, 2022, at age 97.
Mel is survived by his three children, Debbie Bellan (Phil), Ralph Neuman (Miriam) Jody Adelman (David), bonus children, Debbie Shaen, Michael Shaen (Anita Mackey); his brother and sister-in- law, Hy and Lil Neuman, brother-in-law and sister-in-law, Gerry and Phyllis Arron; seven grandchildren, Marnie Bellan Garrett (Brian), Jamey Bellan (Rachel), Lane Bellan (Kate), Cara Oppenheimer (Andrew), Lauren Epstein (David) Ruel Neuman and Jenna Neuman; bonus grandchildren, Jeff Walker (Caitlin), Andrew Walker, Emma Shaen, Rachel Shaen, Laura Shaen, great-grandchildren, Melayna, Drake, Wesley, Brooke, Blake, Vail, Teddy and Sidney.
Mel was predeceased by his parents, Moses and Minnie Neuman, sister Betty Whitley, wife Ruby Neuman and second wife Shirley Shaen Neuman.
Mel was born April 4 1925 in Govan, SK. At age two he moved to Regina spending most of his childhood and adolescence there. Mel was dedicated student throughout his life even skipping a grade at one point. After high school he ran his father's General store for a year until he joined the Air Force to become a radio mechanic. Mel enrolled at the University of Saskatchewan, receiving his B.A. and LLB, where he posted the highest marks in his faculty. He was later recognized with a Gold Medal for those achievements.
Soon after he was introduced to his first love, Ruby Arron, he enlisted in the Army Reserve who provided him a scholarship to Harvard Law School to earn his Masters of Law. After completing his masters he returned to Canada and married Ruby in 1951. They lived in Regina, where he practiced law and became a proud father of three. The Neuman family moved to Winnipeg in 1963 when he became a partner at Newman Maclean. He had a distinguished career and in 1968 was appointed a Q.C.
Mel was a loving husband, father, and later grandfather and great-grandfather. His wife Ruby died after 37 years of marriage. Mel met his second wife Shirley Shaen in 1989. They were married for 17 happy years until her death.
Mel was extremely friendly and loved to talk to everyone and anyone he came in contact with. He had a wonderful sense of humour right to the very end. He was always positive and rarely complained. Mel loved to exercise, and spent five days a week at the Rady Centre. He loved to speed walk chasing after the nearest pretty young woman.
Mel retired from Taylor McCaffrey at age 83, had a second Bar Mitzvah and learned to enjoy retirement. In 2016 he moved to Victoria and lived at Somerset Retirement Home. After his decline from Dementia he spent his last year well taken care of at Selkirk Place. Even in his final years, he was always positive. When asked how he was feeling, he replied, "Excellent". This endeared him to everyone.
The family would like to express their sincere appreciation to the staff at Selkirk Place for the wonderful care given to Mel in his final days.
Funeral service was held graveside at the Shaarey Zedek Cemetery on Friday, April 29.
Donations in Mel's memory can be made to Congregation Shaarey Zedek.