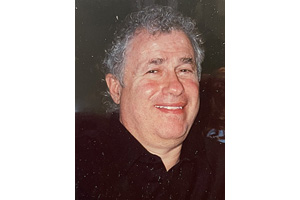 It is with great sadness that we announce that Meyer Rypp passed away suddenly on April 19, 2022, at the age of 84 years.
Meyer will be missed by his partner Cherie Archer, his brother Morley Rypp, and Morley's kids: Howard and Beatriz Rypp and Family in Israel, Robyn Rypp and Arnie Usiskin and Family in Winnipeg.
Meyer was born June 11, 1937 in Winnipeg to parents Joseph and Rose who predeceased him. Growing up, he attended schools in his beloved North End of Winnipeg. His journey to find himself in some form of occupation led him to the Insurance and Investments Business, which became his passion. He excelled in these endeavors, and kept in business for over 60 years and continued to work happily up until the end. He did it his way, just like the song. Meyer was very proud to be a member of the Million Dollar Round Table for many years, which involved going to conventions all over the world. He particularly loved attending the one in Japan.
His love of the NBA, especially the Raptors, began in his youth with his experience playing basketball for the WLI, as well as being the Mascot for the Dominion Championship Winnipeg Stellars Basketball team. There was no more devoted fan of the NBA than Meyer!! His couch and a big screen kept him happy during COVID.
Attending the Blue Bombers games at the Winnipeg Stadium and IG Field was a highlight of his life. He was a season ticket holder for over 50 years.
Meyer had a love of four-footed furry friends, especially dogs. They always put a smile on his face. He had a real attraction to them, which was reciprocated.
No simple words can describe Meyer, but here goes. Each person and client that came across Meyer was treated with dignity, respect and compassion which forever bonded a relationship and ongoing trust. "No one has endurance like the man who sells insurance", "Meyer the Flier", "Who Loves Ya Baby", "and that's the bottom line" were well known phrases Meyer used often to describe himself.
Meyer will be greatly missed by all who knew him.
Meyer's Funeral Service was graveside at the Shaarey Zedek Cemetary on Thursday, April 21, 2022. Many thanks, to Rabbi Anibal Mass and Estelle Raber from the synagogue. Special thanks to the Pallbearers Gordon Steindel, Jerry Pritchard, Leon Pincovich, Howard Kideckel, Robert Freeman, and Arnie Usiskin.
May his memory be a Blessing and we who are left…be grateful for time spent with Meyer.
Donations may be made to the Winnipeg Humane Society or the charity of your choice.