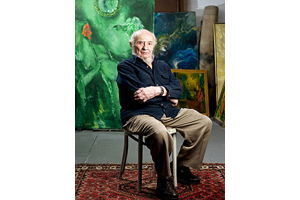 William ("Bill") Chaiken, one of the last of the first-generation abstract expressionists, died on November 13, 2021, at the age of 100. Bill was a prolific artist known for his abstract figurative paintings and admired for his improvisatory style, technical mastery, and emotional depth.
Bill was born in Russia in 1921 and emigrated with his family to Winnipeg in 1926 to escape the pogroms. His father, Zalman Chaiken, came to be celebrated in the community as a Yiddish poet (https://ia802704.us.archive.org/20/items/nybc204675/nybc204675.pdf).
Entering grade school at the age of five, unable to speak English, Bill charmed his classmates with his drawings, confirming his early devotion to art.  
From 1937 to 1940 Bill attended the Winnipeg School of Art, where he studied under George Overton of the British Royal Academy and L.L. Fitzgerald. 
From 1941 to 1945, he served in the Canadian army.  
After the war, Bill moved to New York City and attended the Art Students League under the Veteran's Rehabilitation Act, studying with Morris Kantor and Vaclav Vytlacil. He associated with the abstract artists of the New York School. In time, he found that he was not satisfied with pure abstraction, feeling that it lacked "empathy," and he began to incorporate figures and landscapes into his paintings.His work quickly gained recognition and was displayed in many exhibitions, including six Whitney annual shows (1949 -1956).
In 1959, Bill became a member of United Scenic Artists, a union of freelance designers and painters for theater, film, and television. He painted sets for the Metropolitan Opera, The New York City Ballet, The New York City Opera, The American Ballet Theater, Radio City Music Hall, and Disneyland, as well as for television and Broadway plays and musicals. He also painted the sets and artwork for feature films under the directors Sidney Lumet, John Huston, Martin Scorcese, Woody Allen, John Schlesinger, Bob Fosse, Francis Ford Coppola, and many others. Bill claimed that his work as a scenic artist warmed him up for his own painting, which continued unabated. Some of the dramatic effects of the stage found their way into his paintings, as did early memories of Russia and visions of the wide-open skies over Winnipeg.
In 2009 Bill was devastated by the loss of his beloved wife Elke (née Neuhaus). He feared that he would never be able to paint again, but after a period of illness he returned to his studio, located at his home in the Ramapo Mountains in Hillburn, New York.
Bill continued painting in his own home beyond the age of 100. Two months before his 101th birthday, after moving to an assisted living facility, he took to his bed and died peacefully within a week.
Bill retained his connection with Winnipeg, visiting frequently while his parents were alive. Between visits, his mother kept him supplied with packages of smoked goldeyes.  
Bill's paintings are represented in the Whitney Museum of American Art and in private collections worldwide.
He is survived by his daughters, Ilya Chaiken and MarthaLeah Chaiken, and his granddaughter Zora Sicher.  
A sampling of his paintings can be seen, and the family contacted, on his website: https://www.williamchaiken.com/
 
Passed away November 12 in his home in Tampa.
Barry (as he was known) Klapman was a business leader in Winnipeg. After law school he went to work for his father, Meyer, who started Peerless Garments manufacturing company and grew the family business into one of the largest employers in Winnipeg. Barry loved boating and trips to Las Vegas with his family.
He is survived by his: wife Monique Landry; two children, Arla Klapman Green and Jason Klapman; daughter-in-law Sarah Klapman, and son-in law Stephen Green; sister Maxine Brownstone; niece and nephew, Lorrie and Danny Brownstone; as well as his four grandchildren, Charli, Myles, Miller, and Gabrielle. .
He lived his life to its fullest. Donations in Barry's memory can be made to Brothers For Life https://www.brothersforlife.com/donate/
It is with deep sorrow that he family of Barry Posner announces his passing after a lengthy illness at the age of 75 on Monday, October 9, 2023.
Barry leaves behind his wife, Sharon; children, Adam (Christiane) and Daniel (Victoria); grandchildren, Jordan, Jade, Ari, and Zoey; brother, Murray; and nephew, Cort. Barry was predeceased by his parents, Alec and Claire, and his in-laws, Harry and Rose Borodkin.
Thank you to all the staff at St. Boniface E2 Medical Surgical Intensive Care Unit, especially Dr. Denira Govender and nurse Kaitlin for all of their kindness during this difficult time.
Funeral service was held graveside at the Shaarey Zedek Cemetery on Thursday, October 12, 2023. Our thanks to Rabbi Matthew Leibl for his beautiful eulogy and to the pallbearers: Cort Posner, Zeev Rafaeli, Joseph Gillies, Aaron Migie, Rod Gordon, and Stephen Dubienski.
Barry loved his family and friends. He had a great sense of humour and always made people laugh. He was a wonderful husband, father, grandfather, son, son-in-law, brother, and uncle. Barry was so brave and courageous during the years of his illness. He will be forever missed and never forgotten.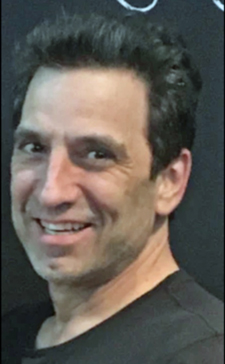 It is with heavy hearts that we announce the sudden passing of Joel David Cooperband on Friday, October 6, 2023. Joel leaves behind his loving wife of 35 years, Cheryl, his gorgeous daughter Adeena, and his beautiful son Joshua. He also leaves behind his sister Reesa (Marty), brother Benjie (Adrienne), brother-in-law Monte (Stephanie), mother-in-law Shirley, along with nieces, nephews, and his uncle David Weinberg.
Additionally, he leaves behind his favourite fur babies, Jersey and Milo. Joel joins his dad Mickey, who passed February 1983, his mom Sandra – March 2018, and his father-in-law Phillip – December 2022.
Joel grew up in Garden City on Woodcrest and loved going to the family cottage at Winnipeg Beach. He worked at Silverman Jewellers and started Executive Jewels with his wife. They travelled across Western Canada setting up their wares but more importantly, enjoyed daily adventures together. Their children both worked with them. And they loved their lives. Family was his greatest passion. Josh chose a different path to take and Joel was so very proud of him. He would talk about him at every opportunity. Adeena was his sidekick, his buddy, his best friend. A huge hole in our hearts is felt by everyone who knew him. Funeral services took place at the Chesed Shel Emes with interment at Shaarey Zedek Cemetery on October 10, 2023. Shiva was private.
Joel was so appreciative of a second chance at life. Unfortunately, it didn't last as long as we hoped. Until we meet again – beautiful soul.