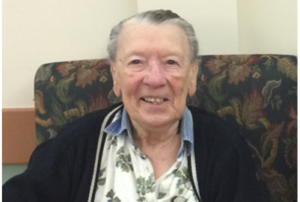 It is with deepest sorrow that we announce the passing of Betty Goldie Gilfix on June 11, 2021 (1st Tammuz) in her 99th year. The funeral was held on June 13, 2021 under COVID restrictions.
She was the beloved wife of Joseph, for over 65 years and mother of Brian (Eleanor) Gilfix of Montreal and Debby (Brian) Sussman of Edmonton. She was predeceased by her parents, Maurice and Mary Kleiman, her brother, Harvey Kleiman, and her sister, Ruth Selby (late Louis).
She is sadly missed by her brother Jack Kleiman of Calgary, sister Ruth Aisenstat (late Bennie) of Winnipeg, and Ann Eist (late Harold) of Bethesda.
She is also sadly missed by her four grandchildren, Reisa Gilfix, Marshall (Sabrina) Sussman, Darien (Carrie) Sussman, and Charlotte Sussman; six great-grandchildren, Ella, Sophie, Noah, Marlee, Max and Ben; and nieces and nephews.
Mom was born on October 23, 1922 and grew up in Hirsch Colony, Saskatchewan, one of the Jewish Farming settlements founded by Baron de Hirsch. Mom attended the Saskatchewan Normal School where she obtained her teaching certificate in 1942. After teaching a short time in Saskatchewan, she moved to Winnipeg where she met Dad at a "Hard Times Dance". They were married in Winnipeg in 1947 and soon started a family. In 1950, they moved into a new home on Rupertsland Avenue.
On Rupertsland Avenue, she made many friends, some life long. She and Dad played in a bridge group that developed on the street that lasted many decades.
Mom and Dad remained in the house for 64 years before first Dad and then Mom moved into the Simkin Centre. Fortunately, they had a period there together until Dad's passing later in 2014. They had celebrated their sixty-fifth wedding anniversary on October 19, 2012.
Mom had returned to teaching in the 1960's to help support the family and served as a supply teacher in Seven Oaks School Division No. 10 and later in Winnipeg School Division No. 1 until she retired in 2004. She always treasured the many friends and acquaintances she made over the many years teaching. She even took driving lessons at a later age in order to go to the various schools.
Mom dedicated her life to her family and especially to her children. She always took great pride in speaking about her children and would do anything for them. She enjoyed nothing better then making her special chocolate cookies for her children.
Mom's last years were very challenging. Yet she showed great resilience and stamina even surviving a bout of COVID.
We wish to thank the staff of the Simkin Centre and especially on Weinberg 2 for their care over the years.
Donations in her memory can be made to the Simkin Centre or to the charity of your choice.
"An accomplished woman, who can find
– Far beyond pearls is her value."
The unveiling of a monument will take place on Monday, May 23, 2022 at noon (12 p.m.) at the Bnay Abraham Cemetery, 4639 Main Street.