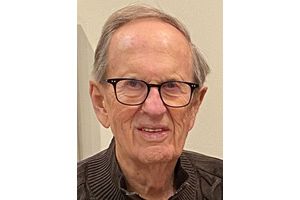 Born: NOVEMBER 17, 1930  Passed away: DECEMBER 31, 2020
Following a brief illness, the family of David Rabb is deeply saddened to announce the passing of our loving husband, father, and zaida.
David leaves to mourn his adoring wife of 65 years, Sheila; his children, Jeff, Irene (Jack), Ian (Trevor); his grandchildren, Haley, Justin, Matthew and Emily; his beautiful sister, Merle, and sister-in-law, Zsipie, as well as many nieces, nephews, their spouses and children. David also left behind countless friends and their families who may have not been related by blood but were as close as family.
David was predeceased by his parents, Louis and Irene Rabinovitch; sisters, Rose (Abe), Ethel (Eph), brother-in-law, Earl Pitch, niece, Pamela Wolson, and nephew, Michael Hoffer.
David Rabb grew up in the south end of Winnipeg. He attended Queenston School, Robert H. Smith and Kelvin High School. He was always an avid learner, starting from a very young age. He was a frequent winner of spelling bee contests, dollars for scholars, and graduated winning the Governor General's medal at Kelvin High School.
In high school David competed and excelled at basketball, bowling and curling. Later in life he discovered both tennis and golf, and pursued these activities for many years. He golfed every week, including this past summer.
David attended University of Manitoba, graduating with an honors degree in geography. His love of learning never ceased, and as a senior he audited classes with his friends at both the University of Winnipeg and College of the Desert in Palm Desert.
In 1954 David met the love of his life – Sheila Pitch, though his fraternity, Sigma Alpha Mu. Married in 1955, the fairytale love story lasted over 65 years. They shared a passion for their families, friends, traveling, winters in Palm Desert, playing cards, entertaining, and sports. David had season tickets for the Blue Bombers for 68 years.
David started his career with his dad and brother-in-law. They opened automatic car washes across Western Canada, followed by Washtronics Ltd., manufacturing equipment for lifting and washing various forms of transportation.
David retired in his mid 50s. Realizing that he still wanted to contribute, he got a real estate license and spent the next 30 years actively working in this market. He finally fully retired five years ago at the age of 85.
David was known to all for his incredible demeanor. He was honest, kind, genuine, reliable, and made a friend of everyone he met, whether it was for five minutes or 50 years.
It didn't matter if it was business, charity or personal relationships. These qualities shined brightly always.
David never forgot the lessons he learned watching his parents and in-laws lead and teach by example. Throughout his life he gave generously to a number of causes – volunteering both time and money – the Jewish Foundation, JNF, B'nai Brith, and Chai Folk Ensemble to name a few. He sent a donation to any charity that ever asked.
The family would like to offer our since love and thanks to all the caregivers and doctors who supported us during his brief illness. We would like to thank Maria, Patty, and Cathy for the exceptional care and concern they extended to our family.
For many years Dr. Sheldon Permack and staff were always there when needed. We also want to thank Dr. Dan Chenier, who saw our dad regularly before he entered the hospital. Also, a special thank you to our dear friends, Dr. Leon Waye and Dr. Jeff Mottola, who helped us navigate throughout his short illness.
Finally, a huge thank you to Dr. Lamba, Rose and Jessie from the Health Sciences Centre for their role in his care.
We are so heartbroken over our loss. David never spoke an ill word of anyone. He had a colossal zest for life. His life was exemplary. He was righteous, a mensch of all menschen, a person of integrity and honour. His unconditional love and support of all his family and friends will sustain us forever.
In lieu of flowers tribute donations can be made in his honor to:
twotenrecovery
www.twotenrecovery.org
or
www.jewishfoundation.org
204-477-7525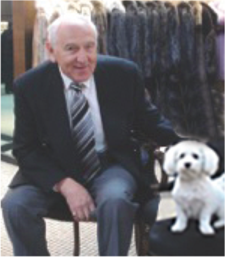 On Monday, July 3, 2023, at home, after a short illness, Harry Reiss passed away at the age of 93. He was the beloved husband of 55 years to Vicky Reiss (Shumsky), who predeceased
him, as did his parents, Ira and Raizel Reiss. He is survived by his children, Jeffrey, wife Marlis,
grandchildren Sheena, Anita, and Leanna; Alan; and Ken, wife Sonya, grandchildren
Chloe, Noah, and Charlie; younger siblings, Sam Reiss, Edward Reiss, and Ida Alpern; and his partner Honey Kowall.
Harry was born in Dunajow, Poland and escaped at age nine with his immediate family due to the growing threat of war and the Holocaust. They left Poland on the "Alaunia" of the Cunard White Star Line, eventually arriving in Halifax on April 16, 1939, then arriving by train to Winnipeg on April 19th, proceeding to Brooksby, Saskatchewan, before eventually settling on a farmstead in Edenbridge, SK, where Harry went to school and helped out on the farm. At age seventeen, due to financial reasons, Harry needed to leave school to find work and arrived in Winnipeg, working 70-hour weeks in a fur coat factory. In 1951, he went to New York City where he stayed with relatives to attend a 6-month course in Fur Designing & Fur Cutting at the Sol Vogel School of Designing. Upon his return to Winnipeg, Harry started his own business in the basement of his parents' house (who had moved to Wpg. with his siblings earlier that year), sewing patterns and selling fur coats to department stores, in addition to bringing his father, uncle Joe, and brother Sam into the venture. Later, the business expanded first to James St. and later to the Bedford Building on McDermot & King, where it remained thereafter and known as Reiss Furs, engaged in both wholesale and retail sales. Over the years, Harry and his partner Sam, developed an extremely successful enterprise, becoming the largest furrier business in Western Canada, renowned for their high-end garments, with international celebrities and royalty amoungst their clientele. Indeed, they were the last independent furrier in Winnipeg, as eventually the marketplace was changing with less demand for fur coats. Ever the astute businessman, Harry had evolved the business into additionally involving retail sales of high-quality non-fur winter wear, as well as men's and women's fashion for some time. In the latter half of his career, Harry successfully expanded into the area of property management, acquiring a number of downtown Winnipeg buildings and parking lots. He continued with property management after the closing of his retail operations in 2008 and "semi-retiring" at nearly eighty years of age.
Harry started to date Vicky in 1956, with them marrying the following year. They enjoyed many happy years together, socializing with family and friends, and in later years looking forward to their winter vacations in Florida. Tragically, Vicky passed away after a brief illness in 2012, at the age of only 73. Fortunately for Harry, over the passage of years he developed a close relationship with Honey Kowall, leading to the two of them ultimately living together, and with him being warmly accepted into the Kowall family.
The family wishes to extend their gratitude for the compassionate care given to Harry by the healthcare-aides who assisted him in his later days, as well as the longstanding service of Judy Hansen.
Funeral services, officiated by Rabbi Kliel Rose, were held at the Rosh Pina Memorial Park on Wednesday, July 5, 2023.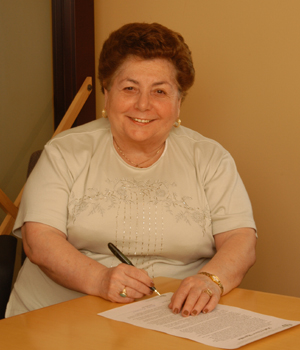 Peacefully, on October 4, 2023, Molly Rosenblat passed away in Winnipeg at the age of 96, just shy of her 97th birthday.Molly was predeceased by her husband, Ernie, and her brother, Syd Glow. Molly will be lovingly remembered by her two sons, Rob (Sue) and Ed (Bev); her grandchildren: Sarah (Zach), William, Alex (Adam), Carly, Randy (Kate); her six great-grandchildren: Raphael, Aron, Artemis, Isadore, Benjamin and Emma; and her many good friends.
The family would like to give special thanks to Drs. Sean Armstrong and Sarah Dunsmore and to all of the very caring staff in the Dialysis Wards at Seven Oaks Hospital. We would also like to thank Maria Szymanska, Molly's case co-ordinator for over 12 years, her excellent neighbours from 2000 Sinclair Avenue: Carolyn and Earl Standil, Pearl Rosenberg, and Gus and Grace Kokoschke; as well as Molly's sister-in-law, Freda Glow and her family, and Molly's friends, just to name a few, that always looked in on her and cared deeply for her wellbeing.
We would also like to offer a very special thank you to nurse Jane Jaculak and the great and very caring staff at The Simkin Centre, where Molly resided for the past few years. A very special thank you also to Molly's private caregivers, Liza Monton and Gloria Navarro, and many others that provided additional care, companionship, and wonderful support to Molly for many years.
A funeral service was held on Friday, October 6, 2023 at Congregation Etz Chayim followed by interment at Bnay Abraham Cemetery.In lieu of flowers, those wishing to do so may make donations in Molly's honour to the Jewish Foundation of Manitoba, the Gwen Secter Creative Living Centre, or to any charity of their choice.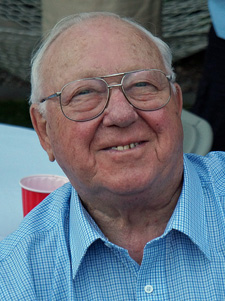 Gordon Pollock, at the age 94, passed away peacefully, surrounded by family, on the morning of Sunday, September 17, at Grace Hospital. Funeral services took place at the Shaarey Zedek Cemetery on Wednesday, September 20, Pallbearers were grandsons, Jeremy Lee and Samuel Pollock, granddaughters Samantha Pollock and Marni Weiss and nephews Joey Katz and Paul Kowall.
Gordon had 5 children: Marshall (Judy), Michael (Ronni), Raymie, who passed away in 2008 (Maureen), Joey (Laura) and Avrum (Tracy); 12 grandchildren: Marni (Jason), Lea (Ari), Jeremy (Stacey), Jonas (who passed away in 2020), Richard (Sarah), Adam (Samantha), Samantha (Ben), Danielle (Jonathan), Liam, Samuel, Benjamin and Alyssa; and 14 great-grandchildren: Sarah, Sammi, Sophie, Julia, Bridget, Mason, Max, Mia, Aiden, Benny Ray, Goldie, Raya, Max and Sydney.
Gordon was predeceased by his loving wife of almost 67 years, Mimi (Bursten), his parents, Sam and Sluva Pollock, mother-in-law Chana and father-in-law Joseph Bursten, sister Myra and husband Chiam, brother Mischa, brother Harvey and wife Sylvia, sister-in law Sookie and husband Zenith, and brothers-in-law Leslie and Raymie Bursten. In addition to his children, grandchildren and great-grandchildren, he is survived by his sister Cecile and husband Monte Kowall, sister-in-law Lynn Pollock, as well as many nieces, nephews, and their families. He had the unenviable status of outliving many of his life-long friends and would talk about them very fondly. He remained, well into his 90s, very sharp and loved to go out for meals, play bridge, do puzzles, play Rummikub, tell jokes, and was an avid follower of politics and current events.
Gordon was one of the longest practicing members of the Manitoba Law Society and prided himself on being a lawyer for clients of all walks of life, races and religions, many of whom were welcomed to his house on evenings and weekends to sign documents, as they were working people who couldn't get off work during the day. He was a man with great patience and put the welfare of others above himself. He gave unconditionally to his family and friends, many times at his own expense. His and Mimi's house always had an open door policy to which many of his family will attest. He loved to cook and barbeque and many times for 20 plus at a time. He and Mimi enjoyed traveling and especially to Palm Springs for many years. They will be missed by all that knew them.
We would like to thank Rabbi Matthew Leibl for his kind words and wonderful service and the many home care workers for their wonderful assistance over the last year. Donations can be made to the Gordon and Miriam Pollock Fund at the Jewish Foundation of Manitoba or to the charity of your choice.