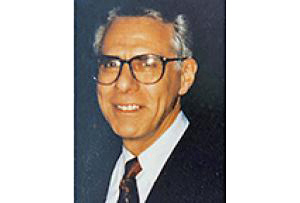 The family of Sheldon Claman is saddened to announce his passing on December 19, 2020, at home surrounded by those he loved the most, in person and in spirit. Sheldon was a greatly beloved husband, father and grandfather who will be deeply mourned and dearly missed.
Sheldon was predeceased by his parents, Benjamin and Teresa (Tess) Claman; his brother Usher Claman; and his cherished son Benny. Deeply feeling his loss are his wife of 56 years, Louise and his three children, Erin (Toronto), Sara (Mardy) and Jeffery. His grandsons, Brett and Seth Yager will miss their zeyda forever and were Sheldon's greatest gifts.
Sheldon was born in Beausejour, Manitoba in 1932. He was the older of two brothers and his father served as the local dentist. In the early 1940s, Sheldon's father, Ben enlisted in the Army and the family relocated to Winnipeg. Tess held down the fort at home on Glenwood Crescent and Sheldon attended school and did the things boys do in their youth with his many neighbourhood friends. Sheldon graduated from St John's High School, but was able to avoid writing final exams by the onset of the flood of 1950. Sheldon and his classmates were dispensed to help pack sandbags in lieu of graduation ceremonies. Following his high school graduation, Sheldon attended the University of Manitoba; as there was no Dental School in Manitoba at the time, he attended the Faculty of Dentistry at McGill University. During the summers, Sheldon served as an Army Reservist with the Canadian Forces to fund his educational pursuits. He served in the Artillery Corps and the Dental Corps. Upon completion of his DDS, he completed postdoctoral training in Oral and Maxillofacial Surgery at the University of Iowa, in Iowa city and at the University of Oklahoma Medical Center, in Oklahoma City. Sheldon was a board member and the President of the Manitoba Dental Association and Founder/President of the Royal College of Dentists. He taught oral surgery in both the Faculty of Medicine and Dentistry, and was a member of the Alpha Omega Fraternity. He was an incredibly humble man with a strong sense of integrity which was the basis for how he cared for people throughout his life. Sheldon was a mentor to many, a leader with a strong sense of fairness and compassion which he passed on to his children and especially his grandsons.
In 1963, Sheldon returned to his hometown of Winnipeg to work while he awaited the paperwork which would allow him to return to the US permanently. In May of 1964, he was set up on a blind date by a patient; he would say this meeting changed the trajectory of his life. Sheldon married the love of his life, Louise Hecht on December 22, 1964 and remained in Winnipeg for the rest of his life. Sheldon recently said, on Louise's birthday just weeks prior to his passing that "I made many mistakes in my life, but marrying you (Louise) wasn't one of them". Together, Sheldon and Louise built a life filled with happy memories and family and friends. Although there were challenges along way, Sheldon, with Louise's fortitude continued on building his professional practise, mentoring generations of dental surgeons through his teaching at the University of Manitoba, and assisting in establishing the Faculty of Dentistry, performing surgeries in the St. Boniface Hospital, Misericordia Hospital and briefly at the Victoria Hospital hospital , eventually founding his surgical center which provided a place for dental surgery to be performed outside the hospital system. Sheldon was responsible for bringing the dental implant surgery to Winnipeg, bringing progressive and cutting-edge surgical techniques to patients and professionals alike.
In 1966, Sheldon and Louise had their first child Erin, followed in 1968 by son Benny and in 1970 by Sara. The family was complete when Jeffery was born in 1971. He changing diapers side by side with Louise, and when Louise returned to work evening shifts, Sheldon took on the challenge of caring for four children after his workday was over. Things never went according to the lists laid out by Louise during her absence, but everyone got fed and was happy by the time she arrived home. Sheldon was an avid father, and although he worked extensive hours during his early years in practise, by the time the children were older, he was around home more and willing to help with their homework; until one of their teachers suggested he stop doing their homework and allow the children to do it themselves.
Sheldon cared deeply for all he considered friends, and passionately for his family. Through his life he never hesitated to offer his love and support to his children when times were tough and challenges presented themselves. Although Sheldon and Louise experienced heartache, they also had joy and happiness which was celebrated with the accomplishments of their children and in turn the birth of their grandsons, Brett and Seth. Sheldon and Louise's grandsons embodied the meaning of life and love to all but particularly Sheldon who never ceased to be amazed at their antics and often took part in their mischief, laughing when they were caught "red handed". Zaida was Brett and Seth's right hand man and they knew his love and dedication to them and future they represented to him. Whether it was sitting with Brett as a toddler in a car for hours so Brett could "drive", pretending the shower was a spaceship or proof-reading university papers, Sheldon glowed in the presence of his "prince" Brett. The mere picture of his grandson, Seth could bring a smile to his face even when he was not feeling well and he always counted on Seth to update him on facts about Frank Sinatra and other "Rat Pack" members for which they shared an affinity. On many rides to dialysis, Seth provided his zaida with a playlist of favourites, bringing smiles in a difficult time.
Sheldon's family had the incredible honour of caring for him in his last days, helping Louise ensure that he had what he needed and was comfortable. His dignity and integrity were maintained to the end. He knew that he was beloved and cherished and that Louise would be well taken care of when he was no longer able to do so.
A graveside ceremony for immediate family only was held on December 21, 2020 at Shaarey Zedek Cemetery, officiated by Rabbi Matthew Liebl.
In lieu of flowers, donations may be made to the Benny Claman Memorial Scholarship Fund at St. John's Ravenscourt School (204-477-2485), Jewish Child and Family Service (204-477-4730) or a charity of your choice.