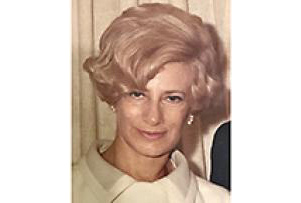 Joyce Cavell Basman (nee Epstein) passed away on December 13, 2020, at the age of 97. A woman who lived and died on her own terms, Joyce's life ended as she wished it – peacefully, painlessly and in her sleep.
Joyce was the daughter of Frieda and Louis Epstein and older sister to Irving (predeceased). Frieda and Louis were refugee immigrants from Russia and Romania. They settled in and around the farming colonies of Saskatchewan, set up by Baron De Hersh for Jews escaping the pogroms of eastern Europe.
During the Dirty Thirties, Joyce's family moved from town to town running general stores in receivership on behalf of creditors. In her youth, she had a penchant for whimsical, devil may care shenanigans, a feature throughout her life. Joyce marched to the beat of her own drummer, not accepting society's mores, forging her own path. She lived through the war years, and became a nurse seeing the worst and the best this world had to offer. A thoroughly modern woman; she played sports, drank as well as any man, dressed to the nines and did not suffer fools lightly.
To the family she was the wild and crazy Aunt from the Prairies. A main stay at all family celebrations, dancing the splits or displaying feats of strength by challenging her nephews to arm wrestling. She was the Aunt who parasailed and played golf with Bobby Hull. She entertained her nieces and nephews with good humour, stories, and sage advice. She made friends wherever she went and made long lasting impressions.
Joyce married Aaron Basman at age 50, and described their marriage as the highlight of her life. When Aaron passed away, she carried on. She was one of the last bridges to a bygone era; she lived well and will be sorely missed by all.
Her family wishes to thank the staff of the Simkin Centre for years of kindness and care.