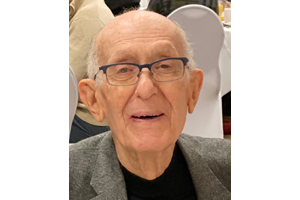 Dr. Wally Bloch passed away peacefully at Riverview surrounded by his loving family.
Wally was born in Pietersberg, South Africa to Boris and Rachel Bloch, and grew up with his two sisters, Ethel and Helen. Wally went on to study dentistry in Newcastle Upon Tyne, England. He met Susana Leistner, from Porto Allegre, Brasil, while visiting Israel in 1957. Three months after meeting they got married and moved back to England to start a life together. After initially living in London, England and then Johannesburg, South Africa, they emigrated to Canada in 1978, settling in Winnipeg, Manitoba. Wally retired from practice in 2018, at the age of 88, being one of the oldest practicing dentists in Manitoba.
Wally was a gentleman, a true mensch, and was loved by all who met him. He made everyone he met feel special. He only spoke kindly of people, and was a role model to all who had the privilege to know him. The world would be a much better place if we could all be a little more like Wally!
He is survived by his loving wife of 61 years,  Susana Leistner Bloch, his adoring children Daniela Jacobsohn and Anthony Bloch, granddaughters Maxine and Sarah Jacobsohn, Rebecca and Megan Bloch, son in law Eric Jacobsohn, and daughter in law Alyssa Bloch. He will sorely be missed by his family, friends and patients.
We wish to thank the care teams at St Boniface Hospital and Cancer Care Manitoba; the amazing staff of the homecare and palliative care programs; and the wonderful staff of 3E palliative care ward at Riverview Health Center. In lieu of flowers, please consider donating to the Riverview Foundation (www.rhc.mb.ca).
Funeral services were held at Herzlia Adas Yeshurun Synagogue on Sunday January 5. It was then followed by a graveside service at Shaarey Zedek Cemetary. The meal of condolence was held at Herzlia Synagogue. Shiva was held at 41 Aldershot Blvd. Monday, January 6th through Thursday, January 9th from 1-3pm and 7-9pm.