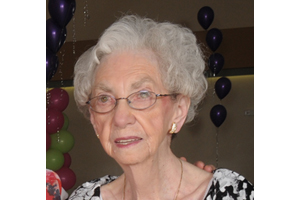 We are sad to announce the passing of Edith Shpeller (nee Meyer) on December 16, 2019.
Edith was born in Ochtrup, Germany in 1928. She leaves to mourn her children Al Shpeller (& Karen) and Susan Goldstein (& Jeff), sister and brother-in-law Rita and Sam Swire, grandchildren Josh, Rebecca and Ben Goldstein and Shayna and Laia Shpeller, in addition to her nieces and their families.
Edith was predeceased by her husband Sam, parents Max and Frida Meyer, mother-in-law Sarah Rabinovitch, sister and brother-in-law Les and Max Gilmore, sister-in-law and brother-in-law Pearl and Sam Nepon, brother-in-law and sister-in-law Irvin and Mabel Shpeller, nephew Les Nepon and nieces Barbara Nepon and Jodi Swire.
After her family fled Germany in 1938 they came to Canada in 1940, where they settled in Lorette, Manitoba. After living on a farm in Lorette for a few years, the family moved to Winnipeg, where they operated a grocery store on Ellice Avenue. In 1958 she married Sam Shpeller. Sam was a hard working locomotive engineer for the CNR, who sadly passed away at a young age in 1982. In 1984 Edith lost her eye site. While this had a profound impact on her life, it did not affect her optimistic outlook.
Edith was a wonderful and dedicated mother, sister and baba. With the help of family, friends and some wonderful care givers (special thank you to Lolita Giron) Edith continued to live in the home she and Sam raised their children, until the fall of 2019. She moved into the Simkin Centre where she enjoyed her final 2 ½ months. She will be remembered as a kind and gentle person, who was quiet and easy going, and never complaining. Her faith was important to her and she was a member of various Jewish groups including Hadassah, Pioneer Women and the Gwen Secter Creative Living Centre. She was also a long-time fan of the Winnipeg Blue Bombers and received great enjoyment watching the Bombers win the 2019 Grey Cup. In her later years her greatest joy was spending time with her grandchildren. While she was never able to see her grandchildren, she made each one of them feel as though she really knew them and made them feel special. Sleepovers at her house were always a special treat. Her life was a blessing to us and she will be greatly missed, but never forgotten.
Funeral services were held at Congregation Etz Chayim on December 18, 2019. Pallbearers were Jeff, Josh and Ben Goldstein, Howie and Garry Gilmore and Barton Faiman. Honorary pallbearer was Sam Swire.
In lieu of flowers, donations may be made to Jewish Child and Family Service, Gwen Secter Creative Living Centre or the CNIB.