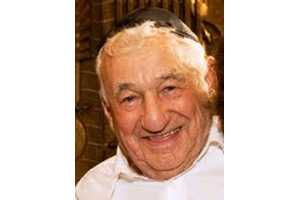 We lost a very special member of our family on December 11, 2021 when Edward Harry Lazar passed away at the age of 97.
He is fondly remembered by his daughters Sharon Batshaw (and her children Leor, Doron, Paul, and Yardena) and Rosalie Lazar, (husband Irwin Corobow and son Jonathan), and his great grandchildren, Davi, Asher, Emerson, and Ellyson and his many nieces and nephews. He was predeceased by his wife Mary (Olin), his parents Louis and Gertie Lazar, his son in law, Bernie Batshaw, and his siblings Sam Lazar, Hilda Stern, Ronnie Lazar and Lloyd Lazar.
Ed grew up on the family farm in Bird's Hill, Manitoba. the 1st generation of his family to be born in Canada. He grew up at a time that was so much harder- no running water, central heat or electricity. His parents Gertie and Louis Lazar and his grandparents Rachel and Nathan Lazar and Moshe and Sarah Daiter all immigrated to Manitoba from Eastern Europe and became pioneer farmers.
He grew up loved by these people absorbing so much of who they were-a brave generation of immigrants working hard to make a good life for their family in new country.
His work ethic was so strong- it started in his childhood- milking cows daily on the family farm before walking 2 and ½ miles to his elementary school classes in Springfield.
It continued throughout his school years – taking on more farm work- watering and herding cattle, planting, harvesting and thrashing.
As a young teenager he would ride his bike from Birds Hill to Winnipeg with his brother Sam to work unloading boxcars of coal for a few dollars and by age 15 he had a steady job at the Transcona cordite factory working long hours at a dangerous job mixing explosives for the war effort. His work continued at age 16 when he travelled to Prince Rupert B.C. to work as a riveter at the CN ship yards, sending every dollar he earned home for the rebuilding of his family's burned-out farm house. When he graduated high school, he immediately volunteered with the Canadian Armed Forces and sailed twice back and forth across the dangerous North Atlantic where there was always a risk of u boat attacks. He returned to Canada to guard prisoners of war in North Western Ontario and then volunteered and trained for the war in the Pacific. After the war he travelled to work for the Yukon Gold Corporation, running a power plant to fuel gold dredging on the Klondike River. He returned to Manitoba 3 years later and farmed in Spingfield on land adjacent to his parents farm. He then worked as an independent trucker and followed that as the long-time owner of Variety Fruit Grocery Store on Main Street.
He valued his Jewish roots, celebrating the holidays with us, attending services, and was a frequent visitor, financial supporter and volunteer at the Simkin Center. In his later years he attended the Simkin Centre Adult Day Program and valued the friendships he forged with the staff (Heather) and volunteers (Brenda). He carried with him the lessons he learned from his parents and grandparents- he spoke and understood Yiddish, and enjoyed using the best humorous Yiddish expressions always with a twinkle in his eye.
He valued family-he was there for his parents especially so as they aged. He enjoyed his siblings and their spouses and interacting with his many nieces and nephews and their children. As the health of his siblings failed, he was determined to be a regular visitor trying to brighten their days. He was the last survivor of his siblings and our mother's siblings and missed them all so much- determined to keep their memories alive with stories.
He was simply a very happy person. Almost every time we would get together with my dad, right up until he passed away, he would amaze us with the clarity of his thoughts and memories from every chapter of his life. His childhood and farm years, his youth, his war years, his work life in the north and here in Winnipeg, and his retirement years. He was a master chronicler and story teller.
In his later years, indeed right up to this summer, you could find Ed sitting on his scooter down at the lake near his house in Lindenwoods, watching the birds on the lake, and he knew what each one was. He loved nature and being outside to see it made him
very happy.
We would like to thank his companions Trina and Linda who enriched his life when he became housebound as well as the WRHA Home Care Program for their support of Ed as his health failed. A thank you as well to Dr. Goldberg of the Fort Garry Access Centre who cared for him as his primary care physician.
The pallbearers for Ed were his grandchildren, Leor, Paul, Yardena, Jonathan and his nephews Matthew and Gary Lazar. We would like to thank Rabbi Kliel Rose of the Etz Chaim Synagogue for officiating at the funeral and his kind words of comfort to the family.
If you would like to make a donation in his memory, please consider the Simkin Centre Personal Care Home or the charity of your choice.