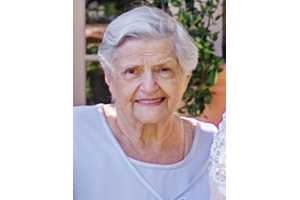 Sylvia Lavitt, of Winnipeg, MB, passed away peacefully, surrounded by family on Sunday, December 19, 2021 at the age of 93.
She is survived by her children Carey (Bernie), Frank (Ahava), Gail (Ron), grandchildren Jennifer (Mat Kostrinsky), Farrah (Ryan O'Colman), Sam (Rachel) Simkin, Carli (Jason Kirkorsky), Andrew Worb, and Samantha Worb, and great-grandchildren, Hank and David Kostrinsky and Jonah, Penina, and Vered Simkin. She was predeceased by her loving and devoted husband, Joey, her parents, Sam and Pearl Sholom Gunn, and her sister, Anne.
Sylvia led a full and vibrant life. Gifted at math, she worked at H&R Block and Revenue Canada. We will forever remember her jovial laugh and smile, which would always light up any room. She was passionate about playing bridge, swimming, and watching the Blue Bombers and Jeopardy! She also enjoyed traveling and spent winters in Palm Springs, California. Yet, her greatest pleasure was spending time with her family.
Funeral services and burial were held on Monday, December 20, 2021 at Shaarey Zedek Cemetery. Pallbearers were Bernie and Sam Simkin, Cole Gunn, Hart Kaplan, and Craig and Riley Pasternak. Honorary pallbearers were Mat, Hank, and David Kostrinsky, Ryan O'Colman, Jason Kirkorsky, Jonah Simkin, Sid Halpern, Bernie Gunn, Fivie Gunn, Howard Lavitt, Harvey Garfinkel, and Russ Lavitt. The family wishes to extend our deepest gratitude to Rabbi Altein for his meaningful tribute and to the staff at Shaftesbury Park Retirement Residence and the staff at Health Sciences Center for their compassionate care. Shiva was observed privately by the family.
Donations to honor Sylvia's memory may be made to the Lubavitch Center, 1845 Mathers Avenue, Winnipeg, MB R3N-0N2. Tel: (204) 339-8737.