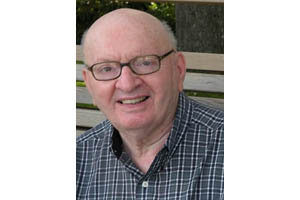 It is with deep sadness we announce the passing of Harvey Brown. He passed away surrounded by his family in St. Boniface Hospital at the age of 87.
He leaves behind his wife of almost 57 years, Rita, his children, Jeffrey (Lori) and Stuart (Sandy), along with six grandchildren (Natasha, Gillian, Sydney, Sam, Etta and Arlo), his brothers Morris and Edward (Susan), and his friends and relatives.
Our family has lost its true patriarch. He was the first born of immigrant parents in 1934 in Winnipeg's historic North End. At the early age of 16, he followed in his father's footsteps and entered the poultry business. Eventually, he founded and operated Acme Produce with his brother Moe, which for decades was the well-known kosher chicken supplier in Winnipeg.
Harvey had a strong work ethic and was a living example that hard work pays off.
He very much enjoyed hanging out with friends at the Good Earth, Sals, Simon's, A&W and at the poker table. Watching and discussing the weather channel was also a favourite pastime.
Harvey and Rita were married in Vancouver in 1965 and had a lifelong partnership and friendship built on love. They unconditionally supported each other during life's ups and downs and shared great pride in raising their sons together. The fact that they became a lawyer and a doctor was an achievement for the entire family. They also took great pride in having Harvey as their father.
We take comfort knowing Harvey had a long and full life without regrets.
We know that he took great satisfaction in the results of his many years of hard work, and even greater satisfaction in the legacy that is his family.
We will miss him deeply.
Funeral was held on Friday, December 17 at 11:00 a.m. at Shaarey Zedek Cemetery.