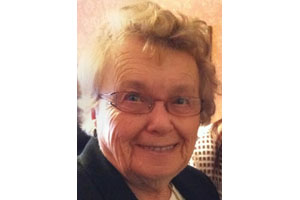 On May 18, 2020, Evelyn Maslowsky passed away at the Simkin Centre at the age of 92.
Evelyn is survived by her son Kenny, daughter Debbie (Arthur), daughter-in-law Chris, brother Nathan Yacowar (Lucy), brother-in-law Bill Mass (Zeke), her grandchildren Kaylee (Jared), Bobby, Tara and Sarah, and nieces, nephews, cousins, and her dear friend Allan. She was pre-deceased by her husband Sam, daughter Barbara, son Jerry and her parents, Abraham and Freda Yacowar.
Evelyn was born in Burstall, Saskatchewan in 1927. She was raised in a most loving family with her brother Nathan on their farm in Leader, along with her aunts, uncles and cousins (like siblings). Evelyn moved to Winnipeg on her own at age of 17 to live with her aunt and uncle and attend St. John's High School before moving on to 'secretarial' training. Evelyn remained a true Saskatchewanite –feeling torn who to cheer for when her beloved Roughriders played the Blue Bombers (a bit embarrassing for her son Jerry years later when he worked for the Winnipeg football club).
Evelyn married Sam Maslowsky in 1947. Together they opened their first store – Cut-Rate Grocery on Pacific Avenue. They soon welcomed their four children into the world and all six lived upstairs of the store. Evelyn used to say those were the best years, with her family (very) close, and good friendships with neighbours and customers.
In 1962, Evelyn's parents moved to Winnipeg. Evelyn and Sam moved to Garden City, with her parents and in-laws living up the street. Evelyn continued working with Sam in the store and together, eventually purchased a new grocery store – Tweed Food Centre in Elmwood. Again, their customers enjoyed the first-rate service, warmth and good humour of Evelyn and Sam.
In addition to working in the store, raising four children and being a devoted daughter, Evelyn was very active in B'nai Brith Women where she led numerous community service programs in seniors' homes and at facilities for physically and intellectually challenged adults. There were also many fundraising events including developing their famous 'Penny Arcade'. Evelyn was also active in Pioneer Women and volunteered for numerous organizations.
Evelyn was always cooking and baking for her family, the community and beyond. Whether it was feeding 20 Hydro workers sandwiches and coffee (they were fixing lines after a storm in front of the house), making food for those sandbagging at flood lines, or feeding walkers on a fundraising walkathon stop at our house, Evelyn was ready to contribute the best way she knew how – with food and an open heart.
In addition to working in the store, Evelyn started a part time job as an enumerator with the Henderson City Directories. She soon became Supervisor of the Winnipeg office and other canvasses in Western Canada.
A highlight for Evelyn was, after Sam passed and she had turned 80, Jerry, Debbie and Sarah took Evelyn to her hometown in Saskatchewan. The town council office held a Tea for Evelyn and many of her childhood friends and neighbours (even the milk delivery 'boy') came to pay tribute to the incredible community contributions of the Yacowar family. This was sweetened even more when her cousin Maury joined the nostalgic visit.
Everyone who knew Evelyn was familiar with her zest for life, her fieriness, her ability to be a warm place to land, her inability to be judgmental, her sparkling eyes, her love of dance, song, family and friends. She was the ultimate caregiver. She walked into a Toronto club where Kenny was singing with a bag of Omnitsky wieners and vursht. She made Christmas dinner for 50 friends and family (as that was the only day Sam closed the store) and anyone else who couldn't be with their own families. She shipped baking filled Purim packages to Bobbi and Kenny. She brought baking, cooked chickens and chili to Jerry and Debbie. She delivered, with love.
The family is grateful for past assistance of Friendly Caregivers and the incredible staff of the Simkin Centre (EVERY single one). We also thank pallbearers Tara Maslowsky, Bobby Maslowsky, Kaylee Maslowsky, Jared Schirmacher, Neil Baker, and Sheldon Kaminsky. There are not enough words to express our thanks to Almaze Mebratu, whose dedication, love and support of her baba, knew no limits.
In lieu of flowers, donations in Evelyn's memory may be made to: the "Barbara Maslowsky Memorial Fund" at the Jewish Foundation of Manitoba; or the "Jerry Maslowsky Memorial Fund" at Variety, The Children's Charity of Manitoba; or "Jerry's Gift – The Day Away Program" at the Never Alone Foundation; or to a charity of your choice.
Rest in peace ma and take care of the rest of our family. You are so loved.