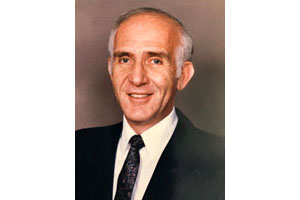 The Honourable Guy J. Kroft passed away on April 15, 2020.
He will be deeply missed and remembered with love by his wife of 64 years, Hester (nee Israels), his children Jonathan (Cara), Debbie (Morley), David (Ellen) and Sarah (Jeff), his grandchildren Daniel, Emily, Charles, Sally, Julia, Sam, Adam, Benjamin, Matthew and Joel, his brother Richard, sister-in-law Hillaine, his sister-in-law Renee and her husband Milton Bogoch and many nieces, nephews friends and colleagues.
Guy was a proud Winnipegger, Manitoban and Canadian. He was born in Winnipeg on May 27, 1934, the son of Charles and Heloise Kroft. He grew up on Ash and Oxford Streets. He went to Queenston School, Robert H. Smith School, Kelvin High School and the University of Manitoba, where he received a Bachelor of Arts in Politics and Economics and his law degree.
Guy and Hester were childhood sweethearts. They grew up just blocks apart, attended the same schools in the same grade and attended the same university. They began a lifelong partnership when they married in 1956, a marriage that was clearly meant to be. Together they built a life and a loving family and they engaged as active members of the Winnipeg, Manitoba and Canadian communities.
In 1955 Guy began articling at the firm now known as Thompson, Dorfman, Sweatman LLP where he continued as an associate and a partner. He was named a Queen's Counsel in 1978. In 1979, after a successful and fulfilling legal career, Guy was appointed as a judge of the Court of Queen's Bench.  He was elevated to the Manitoba Court of Appeal in 1993 where he served until his retirement in 2007.
Although Guy travelled extensively over the years, he seemed happiest at our cottage at Falcon Lake, Manitoba. Together with Hester and surrounded by his family and many life-long friends, he built wonderful memories which we will continue to cherish.
Guy was a dedicated supporter and leader in the Winnipeg and Canadian general and Jewish communities.
Guy served as a bencher of the Law Society of Manitoba. He was an active participant and leader in federal and provincial politics, holding many leadership positions in the Liberal parties of Manitoba and Canada. He served as President of the Manitoba Division of the Red Cross, President of the Canadian Club of Winnipeg, a director of the Winnipeg Foundation and President of the Canadian Judges Conference.
Guy also devoted himself to the Jewish community. He was a founding member of the Canada-Israel Committee during the days of the Yom Kippur War, a board member of Jewish Child and Family Services, served for nearly 20 years as a member of the Executive of the Winnipeg Jewish Community Council (the Jewish Federation of Winnipeg) and ultimately as its President. He was a Vice-President of the Canadian Jewish Congress, President of the Jewish Foundation of Manitoba and Vice-President of the Canadian Council of Jewish Federations. He was recognized for his community commitment in 1988 as the honouree at the Jewish National Fund Negev Gala and received the Jewish Federation's Sol Kanee Leadership Award in 2003.
Guy was a strong person and an anchor for his family and friends. He was a man who thought before he spoke.  He knew how to listen and had the comforting and calm demeanor of a man who appreciated what he had. Those qualities made him a trusted confidant for those who knew him.  He will be remembered as a kind, courteous, fair and intelligent man at home, on the bench and in his community. 
Guy's profound love and respect for Hester, his unbreakable bond with his brother Richard, and his deep love for his children, grandchildren, nephews and nieces were apparent to all who knew him.
The family would like to express its deep appreciation to all of the staff at the Saul and Claribel Simkin Centre, not only for taking care of Guy but also for caring for the entire family as it struggled to cope with Guy's deteriorating health. We would like to especially thank nurses Brenda McGavin, Corinna Heieie and Sara Reid and caregivers Emile Genido, Gigi Galvez, J.R. Bernardo, Moises Acasta and Lawrence Robes for their wonderful care of Guy over the years.
A private service was held on April 19, 2020 attended by immediate family due to the requirements of social distancing in these unusual times of Covid 19.
Donations in Guy's memory can be made to the Saul and Claribel Simkin Centre, 1 Falcon Ridge Drive, Winnipeg, MB, R3Y 1V9, tel. 204-586-9781, the Guy and Hester Kroft fund at the Jewish Foundation of Winnipeg, 123 Doncaster Street, Suite C400, Winnipeg, MB, R3N 2B2, tel. 204-477-7525 or to a charity of your choice.