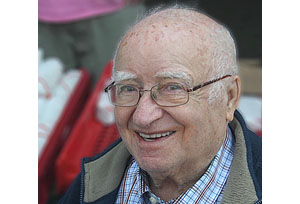 It is with great sadness we announce the passing of our dear father, zaida, zaida-zaida, uncle and brother Morris Chapnick on April 13, 2020.
He was predeceased by his parents Abraham and Edith, wife Thelma, twin sister (at age 3), and his sister Anne Girvitz.
He is survived by his children, Sid (Fern) and  Sharon (Stan) Zynoberg.
His grandchildren, Michael (Lynn), Kelly (Dave), Marc (Tammy), Colin (Amanda), David (Jen). His great-grandchildren, Jacob, Juliana (Cam), Megan, Jamie, Hayley, Kirstyn, Brayden, Ethan, Caleb, Rory and Gabriella. Great-great grandchildren, Deklyn, Aleigha, Levi, Rose and Hunter. Brother Allen, sister Sarah Wilner, brother-in-law Gerry Girvitz, and sister-in-law Bernice Goldhar.
His death leaves us saddened but uplifted in spirit because of our many memories of a life well lived.
Morris was born in Poland on April 29, 1923. Morris met Thelma in their teens and married when they were both 19 years old while he was serving in the Air Force during World War II. They were soulmates and married for 62 and 3/4 years.
Morris was an accountant. During tax season he and Thelma worked side-by-side doing personal tax returns. Morris was one of a kind, a forward thinker. Unlike many of his contemporaries he didn't recoil at the sight of technological advancement. 
The two cherished the moment they became grandparents. They were hands on from babysitting to taking their grandchildren on road trips. Morris enjoyed many years of travel beginning with their first road trip in 1957 when he travelled with his family to Toronto. They continued this tradition for the next 50 years across most of Canada and the United States. Morris and Thelma also made their way to Israel on several occasions and Hawaii was one of their favorite winter spots. They brought their children, grandchildren, and great grandchildren with them to soak up the sun.
Morris was very involved in community life: a founding member of the Bnay Abraham Synagogue – on the board for many years, a board member of the General Monash Legion, and a member of the Gwen Secter Centre.
Morris was strong willed; he lived in his own home and drove until the age of 94. 
Morris's biggest delight was his family – they meant everything to him. Morris taught his kids and grandchildren love, patience, humour, and generosity. May we continue to be inspired by this wonderful role model.
A graveside funeral service was held at the Bnay Abraham Cemetery on April 14, 2020 officiated by Rabbi Kliel Rose. Pallbearers were Stan Zynoberg, Michael Chapnick, Kelly Singleton, Marc Zynoberg, Colin Chapnick and David Zynoberg. 
Thank you to all of his many caregivers especially Alysha, Beata and Abdi Hakim as well as River Ridge II and Home Instead.
Donations may be made to the Jewish Foundation of Manitoba – Morris and Thelma Chapnick Endowment Fund, or a charity of your choice.