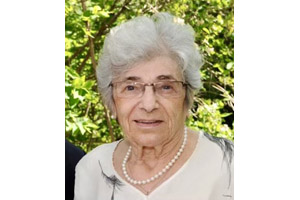 If you are reading this obituary you probably are reading it with a smile on your face. A memory of Frances would always be filled with stories of kindness, intelligence and humour.
The Settler home on Niagara was the best. Frances's three children, Len, Miriam and Seymour, grew up in a home full of love and fun. It was a place teeming with all variety of books – with classical music and opera. The home was imbued with the smells of cooking, which was always delicious and home-made. Frances loved to cook for her family, loved watching everyone eat, and loved to talk about food and try new recipes. Frances had undeniable love for her family; it was constant and unbreakable. She kept her thoughts to herself – and was never critical of anyone, especially her children.
Frances would frequent the WSO with her husband Moishe as season ticket holders and, after Moishe died, would continue to attend with friends or by herself. Whether it was the ballet, symphony, MTC, PTE, or the opera, she would be there: energetic, sharp, inquisitive, ageless even in her nineties, and often with her car parked outside to drive herself home.
Frances was a spectacular woman, exuberant, with a ferocious independence of mind, and totally unwearied investment in the world. She loved discussing world events and always had an opinion – which she would share, but not before she listened to what you had to say. Frances was always friendly to new faces. She took great pleasure in meeting new people and was always so warm, tolerant, accepting and inviting.
Frances "lived" – in the full sense of the word, nearly a century. She expressed an interest in everyone and everything. She traveled the world with Moishe and they gave their grandchildren indelible experiences. One such trip was a ski trip to Banff, driving in December (along with a giant icebox of food), and taking four grandchildren skiing.
In her later years she played with and fawned over a growing multitude of 12 great-grandchildren. She made so many new friends, whom she kept over a lifetime. She opened herself to art, purely for the love of it. She was well known as a valuable volunteer at Art Rental at the WAG.
What defined Frances? Her intelligence, her interest in everyone and everything, her thoughtfulness, her smile……
Frances was predeceased by: her husband Moishe, and brother Harold Bookbinder, brothers-in-law Bert Settler and Al Waisman, sisters-in-law Ruth Zoltok and Faye Settler, and nephew Louis Bookbinder. She is survived by: her children, Len, Seymour, Miriam, and son-in-law Gary; her grandchildren, Laine, Courtney, Jonah, Jess, Janna, Leslee, Carly, Melissa, Michael, and Maddy; and 12 great-grandchildren. The great-grandchildren called her, appropriately, "Great Frances" as "Great Grandma Frances" was just too much to say. That name was perfect to describe Frances. Frances is also survived by: her brother and sister-in-law Arnold and Sally Bookbinder; sisters-in-law Laura Bookbinder and Faigie Waisman; along with nieces and nephews.
The family would like to thank St. Boniface Hospital Emergency and Unit 5B for allowing our mother to have a death with comfort and dignity. Also, thank you to Maria Arbuthnot, Sonia Bermudez and Lucy Smith, for their devotion in caring for Frances.
Your memory is a blessing, Mom. We love you.