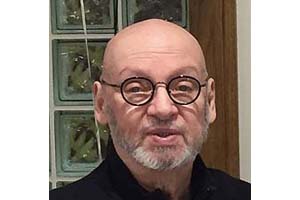 Gently, surrounded by his family, Gersh left this world in St. Boniface Hospital ICU due to systemic infection. His body and spirit fought hard but this time there was no reprieve.
He was born and raised partly in the fabled North End of the city of Winnipeg, and partly in West Kildonan and went to Talmuh Torah School for his first six years then transferring to West Kildonan Collegiate Institute for junior high until Graduation. He held a special fondness for his classmates from Talmuh Torah maintaining lifelong friendships with some. Gersh started work in the historic Exchange District after high school, first in the grain and then garment industry at Silpit before joining his father in the Insurance business at his firm Robins and Sucharov. That was followed by some years in retail management ending his career with Revenue Canada Taxation, called CRA today.
Gersh married the late Molly Vinsky in 1964. Although the union did not last, he was beyond grateful for the daughters it produced and was proud of their accomplishments. But he was lucky in love the second time round, determined to avoid the mistakes he made in the past. They met through his volunteer work. Margaret, his "bashert" (destiny) and he built a life together.
In retirement he looked forward to the days we would pick up our oldest granddaughters – Amber and Simone from school. After lunch on those days, he would stand at the kitchen counter measuring out gummi bears and wagon wheels for their after school snack. He missed those days after they started driving and no longer needed our pickups.
While not able to be physically active with the youngest granddaughters, he sat in his recliner giggling as the twins, Macey and Miley, gleefully covered his entire body with stickers or tissues. We found manageable activities that allowed him to engage with them.
Gersh was renowned for his sense of humour, always ready with a joke or a quip. He loved golf, and the Blue Bombers. How he would have loved to watch them win The Grey Cup last fall!! After Grey Cup he turned his attention to NFL and Superbowl. He had an encyclopedic knowledge of the Mafia and particularly Myer Lansky and the history of Las Vegas. He was always on the lookout for any movies or documentaries on the topic. He looked forward to phone calls from Max; discussing the latest people news with Bev. And lunches with the Sucharov cousins!
But what he looked forward to the most were visits with his family; catching up on family news with Brenlee;, community news with Al; Betty's newest endeavors; and watching his grandchildren grow, whether 27, 26 or 7. He tried to be there when they needed him. At the end of his life he needed them.
Gersh was a grateful member of the Winnipeg Group and had 36 years of continuous sobriety in A.A. when he died. He valued the friendships he formed there, too many to mention. His last years he became active in JACS, particularly with Scott and Riva, and Rick.
He is survived by his wife of 33 years, Margaret, daughter, Brenlee, son-in-law, Al Benarroch, daughter Betty (who passed away six weeks after his death), and granddaughters, Amber, Simone, Macey and Miley; brother Max Sucharov, sister-in-law Rebecca Toolan, her children Michael and Sarah, niece Mira Sucharov (Stephen Gluck), Rory and Lev; the Sucharov cousins; and the Kay cousins. He was predeceased by his parents Myer (Moe) and Rose Sucharov (nee Bershadsky).
He was grateful for the attentive care he received at the HSC Pain Clinic from Dr. Howard Intrater and the nurses there – Sharon, Jackie, Judy, Donna and Marcie. Also he was indebted to his neurosurgeon, Dr. Neil Barrington at HSC.
The family would like to thank the caring staff at St. Boniface ICU, his long time cardiologist Dr. Phil Garber, Dr. Claudio Rigatto , Dr. Assad Junaid and especially for his exceptional care, his family physician, Dr. Grant Goldberg; additionally, Anat of Homecare who went above and beyond in her assistance to Gersh and the family.
Funeral service was held July 19, 2019 at Chesed Shel Emes. Interment followed at Shaarey Zedek Cemetary. Pallbearers were Al Benarroch, Joel Kay, Jeff Morris, Marvin Garfinkel, Scott McWilliam, and Rick Green
Honourary Pallbearers were Myrna Charach, Miriam Segal, Bernie Sucharov, Bev Goulding, Laurie Foster, Garth Darraugh, Mira Sucharov, Sadira Garfinkel, Ara Morris, Merle Garfinkel, and Jeffery Garfinkel.
The reason for this obituary's appearing at this time is that the author was hospitalized for several months around the time of Gersh's death.