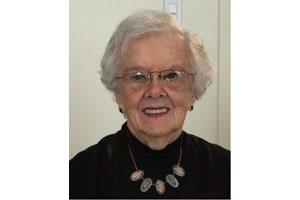 With deep sadness, the family announces the passing of Fritzi Telpner (nee Shuckett) on Tuesday June 2, 2020 at the age of 98.
Predeceased by her parents Jacob and Rachel Shuckett, her beloved husband Gene and her siblings Ben, Nate, Dave, Esther, Goldie and Morley, she will lovingly be remembered by her three children Terri Lee (John), Ron (Patsy) and Wendy (Harry), five grandchildren, Jordan (Heather), Michael (Carly), Meghan (Josh), Lauren (Dan) and Cara Jane (Trevor), five great grandchildren, Mia, Avi , Finley, Annie and Sonny. She is survived by sisters-in-law Sally Shuckett and Sally Telpner and brother-in-law Maynard Telpner as well as numerous nieces and nephews.
Fritzi was born in Dauphin, Manitoba on October 7, 1921 and grew up on Machray Avenue in Winnipeg. Fritzi married the love of her life Gene Telpner on November 13, 1945. After living in Omaha for a few years, they returned to Winnipeg. where Gene was a successful journalist. Together they travelled the world and made life long friends from every walk of life. Gene and Fritzi were inseparable for almost 60 years. They loved spending winters in Hawaii but they were always happy to return home to Winnipeg. Fritzi's devotion to Gene in his final years was unparalleled.
Dignity and grace are the two words that best describe Fritzi. People gravitated toward her. Her natural warmth and genuine interest in everyone made her very special. She was outgoing and always looked stylish. As matriarch of the Shuckett family and the last remaining sibling, she was adored by her many nieces, nephews and friends of her children and grandchildren.
There was nobody like Fritzi. Her home was open to family and friends and her table was always elegant and laden with incredible gourmet delights. Her beautiful dining room table, which belonged to her parents, has remained in the family and holds fond memories of countless happy occasions. Fritzi was making jam, pickles and her famous short bread cookies well into her mid-nineties. Her recipes have been passed down to generations and will continue to be made in loving memory.
Family was everything to Fritzi. She was so proud of her children and grandchildren who were very devoted to her. She had a special bond with each one who felt that he or she was the favourite. She listened and gave advice on everything with honesty. She had a unique sixth sense and always knew if someone was keeping a secret. Being Great Grandma Fritzi to Annie, Sonny, Mia, Avi and Finley brought her sheer joy.
Fritzi enjoyed her ten years at the Shaftesbury and appreciated the wonderful team there. She rarely missed her daily exercise class or evening movie. She was blessed with some very special caregivers, the kindest angels from Esther's Group, whose devotion provided an atmosphere of compassion and dignity. The family will be forever grateful. Many thanks to family and friends for their loyalty and devotion.
Due to current restrictions, there was a a private family graveside service officiated by Rabbi Kliel Rose, Congregation Etz Chayim and private Shiva. Pallbearers were Jordan Farber, Robert Lecker, Paul Shuckett, Brian Lecker, Adam Lecker and Jodi Hyman.
In lieu of flowers, donations may be made in Fritzi's memory to the charity of your choice.