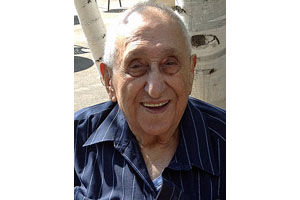 It is with great sadness that the family of Moshe Reuter announces his death on Friday May 29, 2020 (6 Sivan, 5780) in Winnipeg at the age of 90 years.
He was a devoted husband to Nehama (65 years), a loving father to Orit, Tali, and Shelley, a supportive father-in-law to Ami and Grant, a fiercely proud grandfather (Saba) to Michael (Sheryl), Daniel (Angela), Liat (Adam), Danit, Eidan, and Jonah. Moshe was a joyful great grandfather to Annie and Arthur, to Noah and Abby, and to Gabriel and Vienna.
Moshe was predeceased by his mother Elka and father Shraga. He leaves behind his sister Aviva and brother Avram and many nieces and nephews in Israel.
Moshe was born in what was then known as British ruled Palestine and participated in the establishment of Israel. In 1946, at the age of 17, he participated in underground manoeuvres against the British rule. In 1948 he fought in Israel's War of Independence, in 1956 the Sinai War, and in 1967 the Six Day War. He immigrated to Canada with his young family in 1967. He became a Canadian citizen who worked hard to provide for his family and to ensure that his children would have an education and a good life. He was a proud Canadian and grateful for the opportunity this country afforded him. Moshe enjoyed working and meeting people from all walks of life and from all corners of the world. He spoke a few words in many languages enabling him to greet people in their mother tongue as a sign of respect and appreciation.
Moshe established successful grocery businesses and ultimately opened Falafel Place, which allowed him to pursue his love for cooking. Unfortunately, he became ill and was unable to continue in the restaurant. As was Moshe's personality, he turned this misfortune into an opportunity to pursue other lifelong learning. He became involved in wood carving, paper tole art, and honed a new skill in computers. He attended the Rady Centre Gym and later became involved in the Deer Lodge PRIME day program. He was respected in the community and recognized as a mensch.
Thank you to the staff at Riverview Palliative Care for their compassionate care. Thank you to all the staff at PRIME. The care demonstrated there epitomized and illustrated the ultimate in patient and family centered care. This program served to enhance the quality of Moshe's life in every way. The family is very grateful to everyone on the team. Nancy Fiebelkorn, Moshe's Case Manager was our lifeline.
We love you forever and you will always be in our thoughts.
A private service was held at Rosh Pina Memorial Park on May 31, 2020. The Shiva is also private due to Covid-19 social distancing considerations.
In lieu of flowers, donations can be made to the Deer Lodge Centre PRIME program or to the charity of your choice.