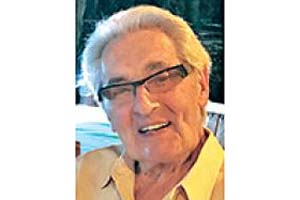 On Saturday, April 25, 2020, we lost the love of our lives. Allan was, as everyone knew, the most incredible husband, father, grandfather and great-grandfather one could ask for.
He will forever be missed by his wife of 68 years, Willa (nee Lepkin), who was his childhood sweetheart. Their great love and devotion to each other was so real, it could be felt easily by others as they built their beautiful life and family together. Allan was a loving father to his four sons, Earl, Larry, David and Daniel and was a significant presence in their lives. He was incredibly proud of their accomplishments and their families. His daughters-in-law, Debra, Eva, Jody and Samantha were each loved as though they were his own.
Allan's greatest joy was his grandchildren: Michelle Fritzi, Cara (Andrew), Jaimie (Jill), Alexa (Wharran), Lauren (David), Aviva (Kyle), Jenna and Gavin. He spent many days on the beach, at the cottage or Disney World indulging in play for hours with them. As adults, he spent endless hours laughing, entertaining and talking about life and family. They will truly miss his conversations, endless love, encouragement and devotion to them. He enjoyed being with his bonus grandchildren, Adam, Leo and Caylie.
Allan was also blessed with three great-grandchildren, Charlie, Teddy and Harper, who made his face light up at the mention of their names and loved Face- timing with them. He took great pride in his beautiful family.
He was a proud Winnipeger and member of the Jewish Community. His youth was spent playing hockey for the Winnipeg Monarchs, football at St. Johns Tech High School and pursuing Willa, his future bride.
Allan spent his entire career building a furniture business. He was known by all in the industry as a gentleman and was greatly respected. His drive and business acumen, along with his sons, led them to be the largest independent furniture dealer in Western Canada.
Allan was loved by all that knew him and was known for his gentlemanly manner, beautiful smile and good looks. His warmth and kindness was reflected by his behaviour, he believed in equality for all and treated everyone as though they were a friend.
He will be dearly missed by his brother-in-law Issie Oiring, nephew Murray (Carol) Oiring, Rochelle (Marshall) Hoffer and their families, as well as many family members and lifelong friends.
Allan was predeceased by his parents, Gitel and Chaim Adelman, his sister Hazel Oiring, and his mother and father-in-law Ben and Sara Lepkin.
The family would like to express their sincere appreciation to his doctors, Dr. Robert Kroeker and Dr. Kenneth Van Ameyde. He was lovingly cared for by Camille, Maryanne, Grace, Merlin and his nurse Don Banret.
A private service was held at Rosh Pina Memorial Park on April 27, attended by immediate family.
We will miss you and love you forever.