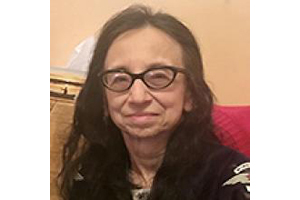 It is with profound sadness that we announce the untimely passing of Hannah (Honey) Brass on July 28, 2022, after a short, bravely fought illness. Hannah was the daughter of the late Freda and Israel (Issie) Brass of Winnipeg, and sister to Alan Brass (Marion Silver), aunt to Lawrence, Rafi (Lee Reichman), and Shira (David Plotkin), and great aunt to Ruben Israel and Lewis Paul, all of Ottawa.
Born in Winnipeg, Hannah remained a true North Ender. She grew up in a loving home and felt a deeply rooted sense of social justice. She spent countless happy hours helping her family run their grocery store. She developed a profound sensitivity for those less fortunate. On cold days her first comment was, "How about the homeless? We pray that they are taken care of."
She was overjoyed by the arrival of her nephews, Lawrence and Rafi, and niece, Shira. She took delight in their accomplishments and followed their interests and passions. She was thrilled with the birth of her great nephews, Ruben Israel, and Lewis Paul.
Hannah had a keen mind and sharp wit, always appreciated by those dear to her. She enjoyed reading and could provide the most astute analysis of current events and politics. She enthusiastically cheered on her beloved Winnipeg Jets and Blue Bombers.
As her parents aged, Hannah demonstrated untiring dedication and devotion. Hannah became an inspiring living embodiment of the fifth commandment: to honour thy father and thy mother.
The family would especially like to thank their dear friend, Augie Braz who became another brother to Hannah.
Hannah was truly loved by family and friends and will be sorely missed. The funeral service was held on July 31, 2022. Donations in Hannah's memory can be made to a charity of your choice.