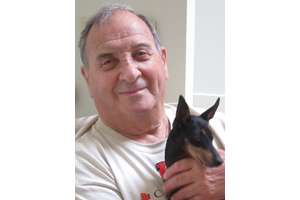 Young at 97 years and 4 weeks. Yes, Jack Shindleman was young. He lived independently, cooked, cleaned and drove himself. His joy of life included being a loyal minyannaire at Shaarey Zedek for 22 years. Jack deserved to be fearless of age, and proud of it too. How young he seemed, was and looked.
Jack Shindleman was the second youngest of seven children, and grew up knowing the challenges of being a member of an immigrant family, particularly when others were not always friendly. His parents, Harry and Shprintza came to Canada from Zhitomer, Russia with their first two children, Clara and Max. His siblings, all of blessed memory, were Clara Greenberg, Max Shindelman, Sophie Goldstein, Elsie Yuffe, Eddie Shindleman and Gladys Kushner. Jack was also predeceased by his loving companion, Doris Bordian.
Jack learnt to become a watch repairman, but ultimately left his hometown of Winnipeg to join his sister Clara and his brother Eddie in Portage la Prairie. Jack and Eddie became a team at work in a grocery store, as livestock buyers, and as dealers in scrap metals and furs. He was also a founder of Prairie Abattoir in Portage la Prairie. Over the years, they were the true welcoming team to many a Portage family. With humour and a large dose of generosity, bonds of trust and loyalty were developed with customers. Many adults today will remember the joking and teasing, as well as the genuine interest in and care for their welfare that came along with a visit to the grocery store. Jack was an integral part of this. Jack always had a story to share, always made people welcome.
Elected and re-elected several times as city councillor in Portage la Prairie, Jack's approach was summed up in one sentence: "My name is Jack Shindleman and I will work for Portagers to make Portage a better place." Simple. To the point. And, indeed, that is just what he did. Jack also served as Deputy Mayor.
He had an expansive knowledge of world affairs, but he also had an encyclopedic mind of every corner and highway in the province of Manitoba. In his early years, Jack drove a horse and buggy to travel rural Manitoba along with his father in the livestock trade. A trade he continued throughout his life. And, those roads were indelibly written in his mind. Imagine the winter storms he prevailed through. It showed, because no matter how challenging the weather or road conditions, Jack was the driver (by horse and later by car) who remained calm and always got to the destination. It did not hurt, as well, that the horses knew the way home!
In 1967, baseball matches of the Pan Am Games were held in Portage la Prairie. Jack was there to help and support the teams. He took a continuing interest in the sport throughout the decades that followed. One of his last conversations with his great nephew Edward, who recalls that Jack's mind remained sharp, was about the upcoming World Series. Jack's passing was hours after the completion of this year's World Series. How timely for a man passionate about the sport.
His regular visits with his nephews and nieces were Jack's truest pride. His advice was sought on innumerable topics. His visits with family were much awaited. Jack never missed a birthday of a nephew or niece. He was always there with a hug, stories to share, and loving kindness.
Few people actually capture the essence of a place. Manitoba is "Friendly Manitoba". Jack took this to become his mantra. He took a genuine interest in those he met. He had a view on how others could be helped, or indeed how they could help themselves. His experiences of people from all across society fostered wisdom that he shared eagerly.
After his sister Clara became a widow, Jack took it upon himself to attend to Clara's wellbeing and was very dedicated to her. Jack was mechanically-inclined and well organized. He could fix everything and anything. Just give him a task and he did it. Somehow he always figured it out.
Going to an appointment meant that Jack first stopped to buy Morden's chocolates to give as a gift to whomever he met, and their assistants. It was an act of kindness without any expectation. True kindness. Jack came from most humble beginnings, experienced the Great Depression and the war years, and lived a modest lifestyle.
He became a fixture on the local casino circuit, as well as taking casino tours to the United States with friends.
After returning to Winnipeg for retirement, he soon found that retirement could be as busy as work. With brother Eddie, he travelled around always busy with too many tasks to complete in a day. The loss of Eddie in 1998 lead to an ever-increasing bond with Eddie's sons, Robert and Sandy. Breakfasts, lunches and dinners together. Baseball and hockey games too, always together. Caring for the family pets, always together. Shabbos and holidays spent together with family were a longstanding tradition not to be missed.
Jack's siblings predeceased him. He is survived by many nephews and nieces, including great and great great nephews and nieces, and their families. We wish to express our appreciation for the care and comfort Jack received at the St. Boniface Hospital, by Dr. Kevin Coates, and a very special note of appreciation to Marlene who became Jack's faithful aid, driver and companion. We also thank the pallbearers, Howard Yuffe, Stephen Yuffe, Michael Kushner, Jared Kushner, Stephen Rosenfield, and Howie Raber.
Doing the right thing came naturally to Jack. Donations of food, clothing, his time, as well as financial support were all part of his way. Should anyone wish to make a donation, please contribute to the Gray Academy of Jewish Education, the Canadian Institute for the Study of Antisemitism ("CISA"), or a charity of your choice.
Jack is missed, but not forgotten. His humour and humility, his friendship and fellowship, his wisdom and wishes for others, will always be remembered to bring light to future days. May Jack's memory forever be a blessing.