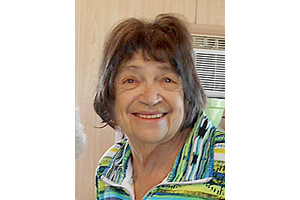 Phyllis Anne Spigelman passed away peacefully on November 3rd, 2020 at Simkin Centre.
Phyllis lived life by the adage, "if I am only for myself, what am I?" These words guided her through life as a wife, mother, grandmother, friend and member of the community. Her well known contributions to her family, friends, Rosh Pina Synagogue (later Etz Chayim), the Gwen Secter Center and Simkin Centre, and the greater Jewish community exemplified her giving nature.
Phyllis grew up in the North End of Winnipeg, attending the Folk School, Luxton School and St. John's High School. She herself never attended university, but, along with her life-long partner, Norman, fostered a deep respect for the value of education in each of her three children.
Phyllis took pride in her skills as a hostess and found great joy in entertaining guests. Her parties at Winnipeg Beach, Yom Kippur Break Fast at 41 Lansdowne, New Year's brunch, and decadent holiday feasts came to symbolize her caring spirit and big heart. In later years, though unable to take on these tasks independently, she delighted in seeing these precious traditions pass to her children, nieces and grandchildren.
Phyllis was predeceased by her loving husband, Norman and her parents Mollie and David Margolese. She leaves to mourn her three children, Robyn (Stan) Feuerberg of Virginia, Victor (Sheli) of Texas, Adrienne (Andy) Ross of New Jersey, brothers Martin (Marilyn) Margolese and Joel Margolese of Winnipeg, six grandchildren (Danielle Arthur, Amy Feuerberg, Jacob Spigelman, Aliya Gergely-Spigelman, David Spigelman and Elyse Weiss), four great-grandchildren Orly and Simon Gergely, Norah Arthur and Molly Weiss along with many nieces, nephews and friends.
A private burial was held at the Rosh Pina Memorial Park on November 5th, 2020. Rabbi Kliel Rose officiated. If friends/family desire, contributions can be made in Phyllis's memory to Gwen Secter Center for Creative Living or the Norman and Phyllis Spigelman Leave More Than Memories Fund at the Jewish Foundation.