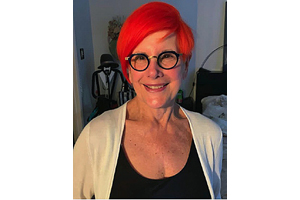 Sharon "Nana" Guralnick, 70, of Winnipeg, Manitoba, Canada passed away peacefully but far too soon on October 26, 2020 in Vancouver, BC with her family by her side.
Born in Winnipeg, Canada on December 6, 1949 to Joseph and Gwendolyn Secter, Sharon is survived by Sam, her loving husband of 52 years, children Michael (Rebecca) of Milwaukee, Wisconsin; Jason (Kerri) of Winnipeg; and Melanie Finkleman (Benjie) of Vancouver. Sharon will be especially missed by her seven grandsons: Josh, Miles, Seth, Gabriel, Max, Jack and Leo. Being a wife, mother and Nana were Sharon's greatest pleasures.
Sharon grew up in the south end of Winnipeg, as baby sister to Mondo, David (Patrick), and Harvey (Sandra). She adored her nephews and niece Alan Secter, Joel Secter and Beth Paul Steinberg and their families, and was especially close to her aunt Lillian Feinstein (Lloyd). At the time of Sharon's passing, she and Sam were enjoying retirement in Sidney, BC.
Sharon will forever be remembered for her love, friendship, loyalty, supportive nature, and sympathetic ear. She had an infectious laugh that would brighten up a room – as would her hair. A lover of horses, fashion, Hollywood, and the latest apps and games, her youthful appearance was matched by her youthful spirit that would always lift up the people around her.
Graveside service was held at the Shaarey Zedek Cemetery in Winnipeg on October 30, 2020 and shiva was observed privately by the family.
Sharon, Nana, Mom, we will miss you and hold you in our hearts forever!
The family is especially appreciative of the nurses and doctors at St. Paul's Hospital Palliative Care Unit in Vancouver for their compassionate caregiving.
Memorial donations in Sharon's honour would be greatly appreciated to any of the following three organizations:
St. Paul's Foundation, Vancouver (specify Sharon Guralnick nursing scholarship) https://helpstpauls.com/donate;
Gwen Secter Creative Living Center, Winnipeg
https://www.gwensecter.com/donate;
and, Pancreatic Cancer Canada
https://pancreaticcancercanada.ca/ways-to-give/.