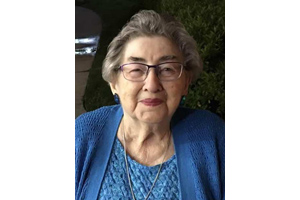 It is with enormous sadness and heavy hearts that we announce the passing of Malke Shore, age 92, loving mother, grandmother, and great-grandmother, at the Saul and Claribel Simkin Centre.
Malke was born to Moishe and Laika Katz in Miedzyrzec, Poland and travelled with her family by boat to Canada at the age of two. Her family settled in Winnipeg. Despite tough times, Malke was in the first graduating class of the I.L. Peretz school, where she sang in the school choir, followed by William White School and St. John's Tech High School. Lacking the funds for a teacher's college education, Malke chose to enter the retail world, starting first in bookkeeping and then in sales. She was a member of Hashomer Hatzair youth group, but declined making Aliyah (moving to Israel) to care for her blind mother, as well as her siblings Benny and Beatrice (Bea).
In 1951, Malke married the love of her life and her forever partner, Jack Shore, and moved with him to Canora and then Tisdale, Saskatchewan, working side by side with him at Shore & Son's general clothing and shoe store. She was a strong participant in community life, eventually becoming the president of both the Kinette Club and the Hospital Auxiliary. Building a Jewish home was important to Malke. She ordered kosher meat to be shipped to Tisdale from Winnipeg and participated in the activities of the Melfort synagogue, including a baby naming for her son and a Bat Mitzvah for her daughter. In 1970, the family moved to Winnipeg, where she again collaborated with Jack to run Maljac Fashions. She later managed Chantal, an exclusive boutique in Eaton Place, and eventually managed the women's plus-size department at Eaton's downtown. All of her customers loved and trusted her. She worked her whole life, an amazing example of a working mother in an era when this was not yet the norm.
Malke loved her husband dearly, including travelling with Jack and celebrating all events with him; they were a model of love and partnership through good times and bad. When he had to be in a nursing home, she visited him every single day.
Malke was everyone's mother, grandmother, friend. She was involved in every event for her children and grandchildren, and mothered her children's friends as well. She lived for her children's happiness. She was so proud of Tsiporah being a doctor and mother of Bernie, authoring a book while also working. Malke was thrilled beyond belief when she had her own grandchildren; she babysat them, fed them, spoiled them, and loved them unconditionally. She had so much pride in everything that they did and still do. She followed Leanne to her universities, witnessing not only her graduation but her dorms, apartments, and the Yale Law Library. She visited Joshua's fraternity house and toured Atlanta with him for several days to celebrate his college graduation. She was thrilled when Julian introduced her to great-grandson Bentley, and had chocolate bars for Bentley whenever he came to her apartment. She baked and cooked with Luca and had good times during their many visits. Malke made her grandchildren feel special with unconditional support; if they were happy, she was too.
Malke was also a true mother to her children's partners. She loved Tsiporah's husband Jeff as if he were her own son. She and he had their own relationship, their own inside jokes. She was always welcoming to Bernie's partner, Jackie. She had a way to just make people feel comfortable.
Malke was also there for all her friends; always sending Jack with baking or cooking to anyone needing it; for illness, for parties, for any reason at all. She cared for her sister when she became ill and managed everything for her. Her nieces and nephews were like her own children. She mothered her special friend, Marie Lavoie, as if she was her own daughter. Everyone who met her enjoyed her warmth.
Malke was incredibly social and could strike up a conversation with anyone. She was a Board Member of the Maple Leaf Chapter of B'nai Brith Women. Without judgment or reservation she supported all those around her. She made a point to get to know every single person she met, and to shower them in warmth, from her closest relatives to the person behind her in line at the grocery store. She was effortless in building community, and in caring for each individual person thoughtfully and diligently.
Malke loved being independent; hosting friends and relatives in her apartment and going everywhere she wanted via the bus, handi transit, and her special driver, Jeff Aboodi. She was so proud when she learned to use an iPad and for years communicated via Facebook and text message with her family and friends. She participated in every event at the Simkin Center; from bowling to bingo to Shabbat Services, she did it all.
Malke leaves to cherish her memory her daughter Dr. Tsiporah Shore (Rabbi Jeffrey Gale); her son Bernie Shore (and partner Jackie Moore-Bunney); her grandchildren Leanne, Joshua, Julian and Luca; her great-grandson Bentley; nephews and nieces, Zvi Gordon, Saul Jacobson, Sybil Stokoloff, Akivah Starkman, Gary Starkman, Roni Katz, David Katz, Ilana Katz-Morstead, and their spouses and children. She also leaves to mourn numerous cousins and many friends.
She was predeceased by her parents, Moishe and Laika Katz; her sister Beatrice (Bea) Starkman (Herb); her brother Ben Katz (Avivah), her sisters-in-law, Razel Jacobson (Sammy) and Ruth Gordon (Sam); and nephews, Don Gordon and Tom Morstead.
The family would like to thank Drs. Turnly Wong, Clarence Khoo, Gregg Eschun, and Richa Tandon for their outstanding care and kindness. The family also extends sincere thanks to Corinna, Brenda, Tessie, Jan, Marilyn, Lori, and the entire nursing staff and health care aides of Weinberg 2, the many volunteers of the Simkin Center, Josh who facilitated recreation and FaceTime, and the entire Simkin Centre staff. Thanks to Jaafar (Jeff) Aboodi, Malke's driver, and to Marie Lavoie and Cycelia Lazarowich for always being there for her. And thanks to all friends and relatives for their unending support.
In lieu of flowers, donations may be made to the Saul and Claribel Simkin Center; the Heart and Stroke Foundation of Canada – Manitoba; the Canadian National Institute for the Blind; or to a charity of your choice.
Malke sent ripples of love and kindness throughout this world, through the many people she met, and the many people who were able to bask in the light she spread. It was her joy and her love of community that allowed her to live so fully. Tehizichronalivracha – may her memory be for a blessing!